Community led Konkani Wikipedia Outreach
Goa University students organised the first ever community led Konkani Wikipedia outreach on May 14, 2014. Fifteen first year M.A. students from Konkani Department participated in the six hour long workshop.
Community led Konkani Wikipedia Workshop in progress. CC-BY-3.0 ShareAlike
The primary focus of this workshop was to educate the MA first year students about contributing to Konkani Wikipedia which is currently in incubation.
The Centre for Internet and Society (CIS) took this up as an assignment to build capacity of interested community members to conduct effective outreach sessions in Konkani. By way of supporting and mentoring such workshops CIS wants  to make sure that we do not reach a situation where Konkani Wikipedia community is entirely dependent on CIS-A2K for its growth. The community should be able to sustain even if CIS-A2K pulls out of its Konkani work.
The workshop was organised by, User: Darshan kandolkar , User: Konknni mogi 24, User: Supriya kankumbikar and User: John Noronha. The presenters were trained, mentored and supported by CIS-A2K to organise this workshop. This included:
Helping the trainers get physical space to organise this workshop at Goa Central State Library.
Training the presenters on how to best organise the workshop and divide it into different sections such as a) Introduction to Wikipedia b) Introduction to Basic Editing c) Hands on workshop on basic editing d) Advance Editing e) Hands on workshop on advance editing
Providing all the training documents such as presentation and presenters note.
Providing registration and feedback forms.
Helping in getting the IP released from '7 accounts creation per IP rule'.
Helping the trainers to design customised energisers, Wikipedia quiz and Wikipedia games to keep the participant's enthusiasm high.
---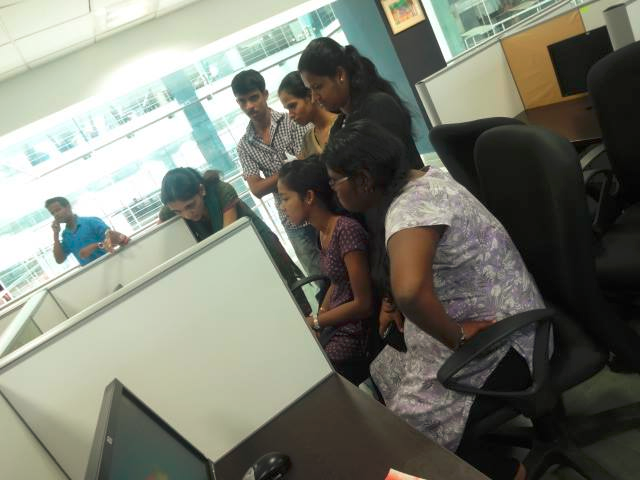 Above: Participants take part in Wiki editing at the workshop.
---