Odia Language Wikipedia Page Grows to 800K Page Views A Month
Odia Wikipedia is one of the first few Indian language Wikipedia projects celebrating such an old age. The Wikimedia community will gather in Odisha's capital of Bhubaneswar on June 3 to celebrate Odia Wikipedia's 13th anniversary.
Get more event details. Click to read the post originally published in Opensource.com on May 31.
---
The Odia language is spoken by more than 40 million people in the Indian state of Odisha (the 9th largest Indian state by area) and its neighboring states, as well as, the Odia diaspora living outside India. With over 5000 years of literary heritage, the Odia language has been recognized as one of the oldest South Asian languages and has been given the status of a "classical language" by the Indian government.
Odia Wikipedia was launched in 2002—a year after the world's largest online encyclopedia, the English Wikipedia—and has grown to be the largest online content repository for the Odia language in Unicode, and is also the largest online Odia encyclopedia. Odia Wikipedia has 17 active editors (known as uikiali) spread across various parts of India and abroad, and over 8,800 articles. The Odia Wikipedia community is driving progressive digital activities by converting content created with non-standard proprietary encoding systems into Unicode, optimizing the system for search engines, and relicensing copyrighted content into Creative Commons (CC) licenses.
Almost all the newspapers written in the Odia language are available in non-Unicode or other proprietary encoding systems, or as images, making it impossible to account for them in search. The same is the case for state government portals that lack Odia-language content or have content in legacy encoding systems. Today, character encoding converters are hosted on Odia Wikipedia so that the editors can convert other encoding to Unicode; making newspapers and magazines that were unaccessible because of inability to search non-Unicode content available.
Odia Wikipedia has been available in Unicode since 2002, but for nine years it was dormant. Content creation and editor activity began to pick up in 2011 and since has increased at a dramatic rate. Content now covers diverse topics, from medical science to Odia cuisine. Since, it has grown to over 808,834 page views as of March 2015.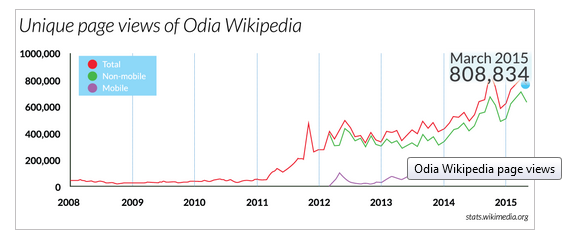 Original photo by Subhashish Panigrahi. CC BY-SA 4.0
The Odia Wikimedia community has also organized Wikipedia workshops and Wikipedia Education Programs to relicense copyright encyclopedia content to CC licensed content by negotiating with authors and copyright holders, and by gathering resources from various sources that are were easily accessible.
Going forward we hope to make an impact on the areas slow to change, like the media for the Odia language who have resisted adopting Unicode.
The Odia Wikipedia community hopes to improve and increase the use of the Odia languague online so that users can read and communicate on the Internet in that language. An open and collaborative tool like Odia Wikipedia is a promising avenue for this challenge because it allows anyone to contribute to writing, editing and enriching articles.