A Telugu Wiki Meetup @ CIS, Bangalore
Posted by SJ Veera
at Jun 11, 2013 04:00 AM |
Permalink
On June 2, 2013, the Centre for Internet and Society (CIS) hosted a Telugu wiki meetup in its Bangalore office. Updates from the meetup is shared in this blog post.
A picture of the participants from the Telegu Wikipedia Meetup held in CIS on June 2, 2013
Access the Telugu wikipedia page about the event here
---
Unfortunately, I was unable to attend the Telegu Wiki Mahotsavam held in Hyderabad earlier this year (in April 2013) due to personal and professional constraints even though Arjuna Rao called me twice and requested me to attend it. However, when he called again recently about a planned meetup in Bangalore, I willingly took up the initiative.
I used the "Category: Wikipedians in Bangalore" and communicated with all the Telugu users. I met T. Vishnu Vardhan, Programme Director, Access to Knowledge, Centre for Internet and Society and personally and took his views. Myself and Arjuna took the initial steps to organize this meeting. Arjuna managed to invite Dr. T. Ramakrishna and Gudipati Narayana for this meetup. He also managed to announce about this event in the press.
We finally met at CIS and had a two-hour session:
The Programme
Welcome note by Sasi
Mutual introductions
An introduction was given to Telugu Wiki projects with practical examples. (Using, searching, editing, interaction and getting help)
Guests' doubts were clarified by the Telugu Wikipedians Ravichandra, Arjuna and Sasi
Dr. Ramakrishna suggested that parallel to the Telugu Wikipedia development, Telugu should be encouraged to be used in administration. This should start with interactions with the officials and the organizations working towards it
Gudipati Narayana conveyed his view that Telugu Wikipedia can be used to increase the standards in Telugu teaching
Both the guests promised that they will do their bit in organizing the Wikipedia awareness events in the organizations know to them
A group photo of Telegu Wikipedians from the meetup held at CIS, Bangalore is seen below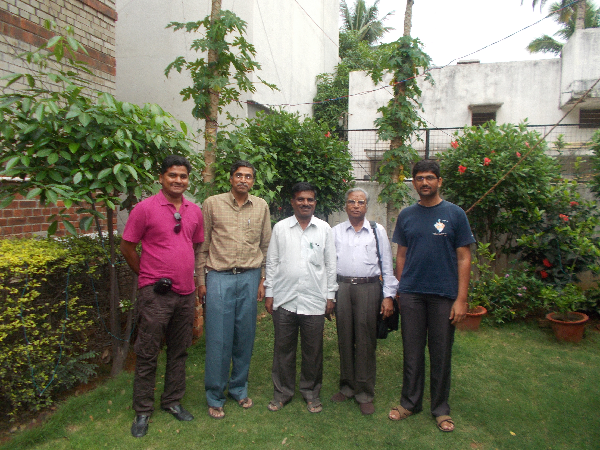 ---
It is decided that a Telugu Wiki Meet-Up will be held on second Saturday of every month in Bangalore for Telugu Wikipedians.