Odia Wikisource to Celebrate its First Anniversary Tomorrow!
Odia Wikisource, a sister project of Odia Wikipedia and a free online Odia language library, will celebrate its first anniversary in Odisha capital tomorrow.
The article was published in Odisha Sun Times on October 25, 2015.
---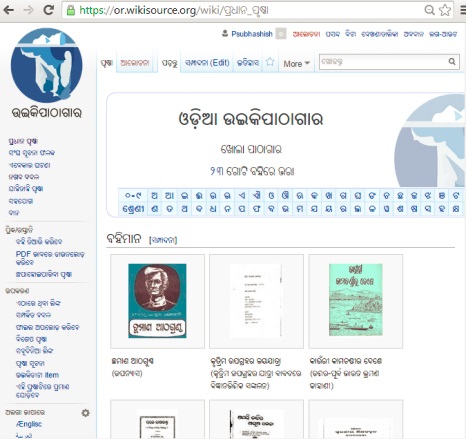 Scheduled to be held at the Institute on Management of Agricultural Extension (IMAGE) in Siripura at 5 PM, the open to all event would welcome everyone taking interest in Odia library movement in particular and Odia language in general, as per a press release issued by Odia Wikisource.
It may be noted that the project, available online at or.wikisource.org, went live on October 20, 2014 after being incubated for over two years. It not only provides free and open access to readers to text that are out of copyright or available under free license, but also allows them to contribute in either digitizing copyright-free text or correcting mistakes made by others.
"Wikisource is different than Wikipedia as the former is published writing republished online where on Wikipedia it is more of aggregating information published elsewhere in an encyclopaedic manner," explained Subas Chandra Rout, a long time Wikimedian.
All the contributors to the project are volunteers and are fondly called 'uikiali' in Odia. These volunteers follow certain guidelines to check through the content digitized by others to make sure there is no copyrighted text posing copyright violation, correct typing and other grammatical mistakes and incorrect attributions.
Authors and copyright holders are also encouraged to provide permission in re-licensing their work under free licenses like CC-BY/CC-by-SA licenses so that some of their content becomes available online and fill the large gap in online availability of Odia books to some extent.
"Last year, the Wikimedia community in Odisha did a remarkable job in bringing in as many as 141 books from multiple authors relicensed under the above mentioned licenses. We, as an institution, played a role in reaching out to many authors and convincing them for a small contribution to the society," said the Centre for Internet and Society's Programme Officer Subhashish Panigrahi.
"There is a great dearth of Odia books online. I try to buy some time from personal and office time to continue my contribution. I started from an all time Odia classic 'Chhamana Athaguntha' by Fakir Mohan Senapati," said Pankajmala Sarangi, the most active contributor to the project.