Domestic Work in the 'Gig Economy'
The CIS and Domestic Workers' Rights Union (DWRU) are hosting a discussion on the 'gig economy' and domestic work on Saturday, November 16 at Student Christian Movement of India, Mission Road, Bangalore. This event is a part of a project supported by the Feminist Internet Research Network led by Association for Progressive Communication (APC) and the International Development Research Centre (IDRC), Canada.
Event details
When
Nov 16, 2019
from
03:00 PM
to
05:30 PM
Contact Name
---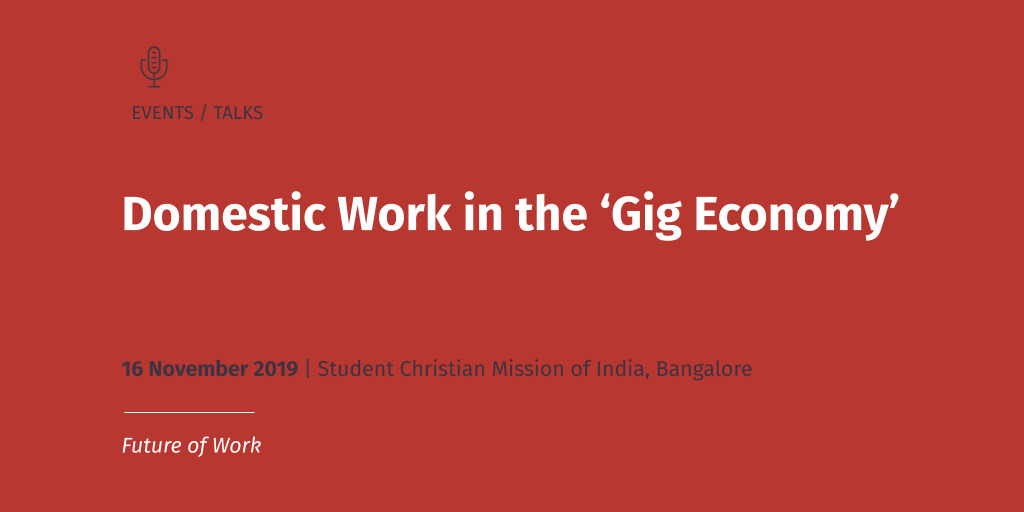 Presentation: Download (PDF)
Concept Note: Download (PDF)
Venue: Student Christian Movement of India (29, 2nd Cross, CSI Compound, Mission Road, Sampangi Rama Nagara)
Date and Time: Saturday, November 16, 3:00-5:30 pm
Location: URL (Google Maps)
Feminist Internet Research Network: URL
---
Over the last few months, the Centre for Internet and Society, India (CIS) and the Domestic Workers' Rights Union (DWRU) have been doing research on the platformisation of domestic work in India. In the first phase of the research, we gathered data through interviews with several stakeholders. More information about the project can be found here: https://cis-india.org/raw/digital-domestic-work-india-announcement.
We now find ourselves in the second phase of the research in which we have prepared a preliminary report and are seeking feedback and inputs from experts. For this, we invite you to a roundtable discussion on domestic workers in the 'gig economy'.
The participants at the roundtable will comprise of representatives from key stakeholder groups including platform workers (i.e. domestic workers sourcing jobs through platforms), platform companies, domestic workers organisations, civil society researchers and the state labour department.
The event will begin with a presentation of the project and our initial findings. The rest of the time is set aside for a semi-moderated discussion between all participants. To ensure a focused discussion, we are also limiting participation to 30, and are hoping to have a good mix across stakeholder groups.
If you will be joining us, please RSVP to Aayush Rathi at [email protected].