Internet Researchers' Conference 2018 (IRC18): Offline, February 22-24, Sambhaavnaa Institute
We are proud to announce that the third edition of the Internet Researchers' Conference series will be held at the Sambhaavnaa Institute, Kandbari (Himachal Pradesh) during February 22-24, 2018. This annual conference series was initiated by the Researchers@Work (RAW) programme at CIS in 2016 to gather researchers, academic or otherwise, studying internet in/from India to congregate, share insights and tensions, and chart the ways forward. The *offline* is the theme of the 2018 edition of the conference (IRC18), and the conference agenda will be shaped by nine sessions selected by all the teams that submitted session proposals, and an independent paper track consisting of six presentations.
Venue: Sambhaavnaa Institute, Kandbari, Palampur, Himachal Pradesh, 176061
Registration: RSVP (Google Drive)
---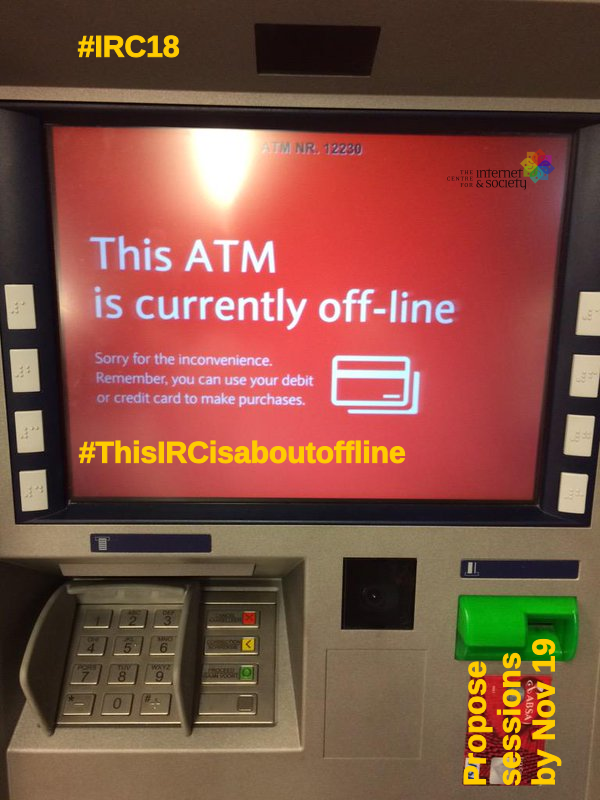 IRC18: Offline
Does being offline necessarily mean being disconnected? Beyond anxieties such as FOMO, being offline is also seen as disengagement from a certain milieu of the digital (read: capital), an impediment to the way life is organised by and around technologies in general. However, being offline is not the exception, as examples of internet shutdown and acts on online censorship illustrate the persistence and often alarming regularity of the offline even for the 'connected' sections of the population.
State and commercial providers of internet and telecommunication services work in tandem to produce both the "online" and the "offline" - through content censorship, internet regulation, generalised service provision failures, and so on. Further, efforts to prioritise the use of digital technologies for financial transactions, especially since demonetisation, has led to a not-so-subtle equalisation of the 'online economy' with the 'formal economy'; thus recognising the offline as the zones of informality, corruption, and piracy. This contributes to the offline becoming invisible, and in many cases, illegal, rather than being recognised as a condition that necessarily informs what it means to be digital.
Who is offline, and is it a choice? The global project of bringing people online has spurred several commendable initiatives in expanding access to digital devices, networks, and content, and often contentious ones such as Free Basics / internet.org, which illustrate the intersectionalities of scale, privilege, and rights that we need to be mindful of when we imagine the offline. Further, the experience of the internet, for a large section of people is often mediated through prior and ongoing experiences of traditional media, and through cultural metaphors and cognitive frames that transcend more practical registers such as consumption and facilitation. How do we approach, study, and represent this disembodied internet – devoid of its hypertext, platforms, devices, it's nuts and bolts, but still tangible through engagement in myriad, personal and often indiscernible ways.
For the third edition of the Internet Researchers' Conference (IRC18), we invite participants to critically discuss the *offline*. We invite sessions that present or propose academic, applied, creative, or technical works that explore social, economic, cultural, political, infrastructural, or aesthetic dimensions of the *offline*.
Sessions
#OnlineGovernanceOfflineGovernment - Mohammad Javed Alam and Suman Mandal - Session Details
#WomenInTech - Priyanka Chaudhuri and Tripti Jain - Session Details
#Cyberflesh - Akriti Rastogi, Ishani Dey, and Sagorika Singha - Session Details
#RethinkingTheVirtualPublic - Daisy Barman and Aamir Qayoom - Session Details
#FeminismIRL - Mamatha Karollil, the SIVE Collective, and Tara Atluri - Session Details
#ILoveYou - Dhiren Borisa and Dhrubo Jyoti - Session Details
#CollectionAndIdentity - Ravi Shukla, Rajiv Mishra, and Mrutyunjay Mishra - Session Details
#FollowUsOffline - Dinesh, Farah Yameen, Afrah Shafiq, and Bhanu Prakash GS - Session Details
#OfSiegesAndShutdowns - Chinmayi S. K. and Rohini Lakshané - Session Details
Papers
Slow journalism and the temporalities of the offline - Akshata Pai - Paper Abstract
Campus campaigns: User perceptions in pre-digital and digital eras - Arjun Ghosh - Paper Abstract
The many lives of food: Blogs to books and back - Dhrupadi Chattopadhyay - Paper Abstract
Feminism in digital age - Putul Sathe - Paper Abstract
Marathi literary criticism in the era of social media - Rajashree Patil - Paper Abstract
Taking open science offline - Shreyashi Ray - Paper Abstract
About the IRC Series
The Researchers at Work (RAW) programme at the Centre for Internet and Society (CIS) initiated the Internet Researchers' Conference (IRC) series to address these concerns, and to create an annual temporary space in India, for internet researchers to gather and share experiences.
The IRC series is driven by the following interests:
creating discussion spaces for researchers and practitioners studying internet in India and in other comparable regions,
foregrounding the multiplicity, hierarchies, tensions, and urgencies of the digital sites and users in India, accounting for the various layers, conceptual and material, of experiences and usages of internet and networked digital media in India, and
exploring and practicing new modes of research and documentation necessitated by new (digital) objects of power/knowledge.
The first edition of the Internet Researchers' Conference series was held in February 2016. It was hosted by the Centre for Political Studies at Jawaharlal Nehru University, and was supported by the CSCS Digital Innovation Fund. The second Internet Researchers' Conference was organised in partnership with the Centre for Information Technology and Public Policy (CITAPP) at the International Institute of Information Technology Bangalore (IIIT-B) campus on March 03-05, 2017.