Law & Order through Traffic Systems
A TV white space system for traffic management may induce us to observe discipline and law-abiding behaviour, writes Shyam Ponappa in an article published in the Business Standard on June 5, 2013.
Image depicting traffic accidents
---
Read the original column published in the Business Standard. This was cross-posted in Organizing India Blogspot.
---
India coasts on a post-feudal-colonial mélange of currents and tides, with the brigandage of opportunistic politics fed by our (the voters') greed for short-term benefits. The result is grotesque populism and corruption in lieu of the deferred gratification of pleasing cities and countryside with the appurtenances of proper governance: sidewalks and drains, toilets, transport, administration and order. We must develop solutions with an integrated, problem-solving approach, not just wait.
In such chaotic times, should we even consider minor themes, like trying to bring order to our traffic, and our behaviour on our roads? Yes, if one accepts that turmoil and crises provide opportunities as much as threats, and because these areas are among the few in which there may be chances of success if there are well-directed efforts. Instead of passively being buffeted by fate, we can do something about it: analyse the causes of our horrific traffic, devise an approach to mitigate or contain some factors, and formulate and implement solutions. Also, the technology is readily available, and the solutions need not be all-encompassing efforts on a countrywide scale, or not at all. Hence this pitch for a technology- and institution-driven, systems approach to traffic management that could potentially change the way we are. The big assumptions are: (a) that systems can induce order and law-abiding behaviour on our roads, for a start, and (b) that this will reduce traffic accidents. Let's consider how.
Traffic Accidents & Deaths
Information on traffic accidents is available from the National Crime Records Bureau at the ministry of home affairs. The latest report available is for 2011. There were 473,084 reported traffic accidents in 2011, comprising 440,123 road accidents, 2,385 "rail-road accidents" and 30,576 "other railway accidents". The figure for accidental deaths from unnatural causes was 367,194, of which traffic accidents accounted for 165,072. The latter included road and rail accidents, but excluded deaths from drowning and accidents involving aircraft. Road traffic accidents and deaths countrywide and for the Union territory of Delhi for the last five years are shown in the graphs below.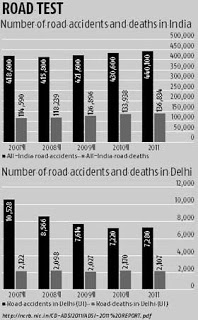 While frightful enough, the graphs do not quite convey the horrid rough-and-tumble unpleasantness of our roads. Could there be some way to bring order to this aspect of our lives? Perhaps, if we can imagine better scenarios, and then apply ourselves to act collectively to achieve them. It may be possible to introduce systems that elicit better governance and behaviour, as in the following instances.
Wireless smart grids and TV white space
An early example of augmenting existing communications networks with TV "white space" (ie, the unused TV spectrum) devices was implemented in America, in the city of Wilmington in North Carolina and its environs of New Hanover County. The City of Wilmington has about 100,000 people in about 105 square kilometres, while the county has a population of nearly 200,000 in an area of about 515 square kilometres. [1]
Because of the distance between localities, the extent of wetlands and waterways, and the dense foliage, extending broadband coverage to all its residential areas was difficult and expensive. In January 2012, Spectrum Bridge helped with installing a wireless overlay in three locations using TV white spaces to provide broadband connectivity. Additional equipment enabled real-time traffic monitoring to improve efficiency, reducing congestion and travel time, as well as aiding in law enforcement, in disaster management such as hurricane evacuations, and in enabling broadband connectivity for public schools. The coverage extended to the parks and recreational areas, providing better facilities for citizens, as well as more efficient environmental monitoring. The point is that communications can be effected much more effectively and efficiently through using TV "white space" bands.
In April 2012, a different group including Google, Microsoft, the BBC, and so on set up a smart grid in the university town of Cambridge in England, using TV white space in six locations covering a radius of about 6 km, comparable to central New Delhi. This network covers a population of about 125,000 and enables the management not only of services like electricity meters, but also of air quality sensors, street lights, traffic management, and parking spaces.[2]
Traffic and law enforcement systems for India
Now consider New Delhi and the National Capital Region. While it has a huge population over an extensive area, central New Delhi covers a radius of some 6-7 km, as do other localities in the city and its environs. Apart from the scale of population and geography, there are also the differences in culture or ethos with the instances mentioned earlier.

Yet, if our authorities could pull together a coordinated effort to develop and implement a network that would support wireless webcams, it may well provide a basis for governance that could work. If initiated for traffic and area management, there could be major improvements in bringing order through non-discretionary traffic management, as also in upholding law enforcement for the safety of citizens.

There may be an outcry from civil liberties champions, but residents will likely welcome the benefits, although they might cavil at unpopular but essential disciplines like system extensions to electricity and water metering. It will also bring about the cutting of the knot of India's welter of unimplemented laws.

The elements of this system would have to consist of really good overall design for the wireless overlay using TV white space bands, initially for a system of web cameras. These spectrum bands are unused despite being very effective for long-range communications. There would need to be some form of automated action report generation systems - for example, penalties for traffic violations. Also needed would be appropriate institutional support so that violators cannot ignore penalties, like fast-track collection processes that do not require recourse to an overburdened and dilatory judicial system. In addition, some degree of surveillance for crisis detection and rapid response would be necessary to deal with law enforcement.

The actual implementation could be modular by location and purpose while maintaining an integrated systems approach, so that areas of action as well as locations could be phased and need not be done simultaneously on a massive scale. In other words, it need not have the ab initio monumental scale of the UID, and could perhaps avoid some of the controversial design issues confronting the latter. It needs the approach, coordination and effort that achieved the Metro.
---
[1].http://www.spectrumbridge.com/ProductsServices/WhiteSpacesSolutions/success-stories/wilmington.aspx
[2].http://gigaom.com/2012/04/25/brits-score-white-space-first-with-city-wide-network/