ICOMM2012: International Communications and Electronics Fair
The seventh India International Communications and Electronics Fair (ICOMM2012) organized by CMAI Association of India was held at the NSIC Expo Grounds in New Delhi from September 14 to 15, 2012. Jadine Lannon attended the event, and shares us with some interesting and exciting new developments in ICT.
For the last seven years, the ICOMM event has been conducted by the Communication Multimedia Applications Infrastructure (CMAI) Association of India.[1] Since its first installment in 2006, ICOMM has grown to be a significant international tradeshow that showcases the latest products and technologies from a wide array of Asian mobile, tablets and consumer electronics manufacturers. Over the years, the event has also grown to include various participants from related industries, like service providers, application and software designers, and producers of equipment, components, parts and accessories.
While past ICOMM events had a strict B2B (business to business) structure, ICOMM2012 was the first year that the tradeshow was open to the public, making it India's first consumer mobile and tablet exhibition. This B2B/C2B strategy appeared to be largely successful—the event received a high amount of traffic, especially from young people, and plans for the 8th ICOMM in 2013 involve an increase in event scale through integration with the India Telecom 2013 tradeshow.[2]
The main themes of ICOMM2012 were mobiles, tablets, and consumer electronics, though applications, accessories, and various related technologies and industries were also featured. The event hosted a large diversity of participants, from leading Indian brands like Micromax, Lava International, Karbonn and Maxx Mobile to smaller Indian and international brands such as GlobyTalky, Skymobiles, Gionee, Ivio, Belphone and Signal. A huge array of devices and innovations were featured at ICOMM2012, many of which are still prototypes. Here are some of the innovations and booths that caught my eye:
Datawind Ltd. occupied a popular booth with the release of four new 7-inch UbiSlate tablets[3] UbiSlate 7Ci, 7C+, 7Ri and 7R+. These sophisticated Android devices function as both tablets and smartphones, support WiFi and GPRS connections, and are the only Android devices on the Indian market to feature Datawind'sUbiSurfer browser. The UbiSlate 7+ devices can now be pre-ordered for between Rs. 3,499 and Rs. 4,799.

I was able to interview Mr. Jasjit Singh, the Executive Vice President of Datawind, on the UbiSlate tablets. A link to this interview will be provided in the near future.

ICOMM2012 actually saw the launch of fair number of new devices onto the Indian market. One of the most prominent launches was SMSInfosys'[4] new product line of mobile, tablet, and computer devices under the brand GlobyTalky.[5] This "GlobyTalky" brand originally began as a mobile application called "GlobyTalky – Connected Life", a multi-platform RCSe application that boasts multiple communication and sharing features. The application, brand and devices are the brainchildren of Imtiaz Ahmed, the founder of SMSInfosys.
The GlobyTalky launch was distinguished by the wide array of devices that were released. The brand features a good selection of feature phones, smartphones and tablets, as well as two laptops (I was unable to get a picture of the laptops). Each of the GlobyTalky mobile and tablet devices feature the GlobyTalky – Connected Life application. Two phones are of particular interest in the photo below—the thin light blue phone with the long blue strap and the dark blue candy bar-style phone on the right.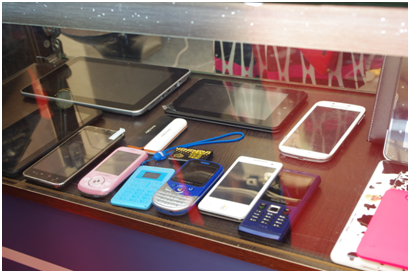 The light blue phone is about the size of a credit card and 5.6 mm thick. It was advertised as a "back-up" phone that one could keep in their wallet and use when their main phone failed, and was priced at Rs. 1000-1200. The dark blue phone, called the G-Aqua, is completely waterproof—it can function perfectly while submerged in water, and can survive submersion of up to 1.5 meters without taking any damage. It can even receive calls, play music, and take pictures while underwater. It can be seen again in white in the picture below.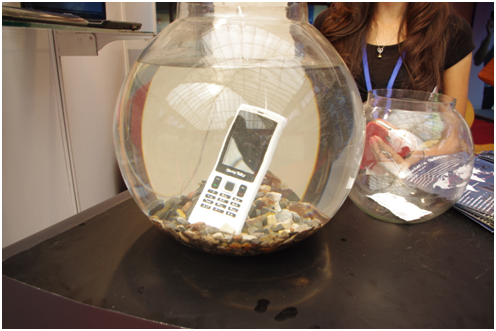 According to Mr. Ahmed, 60 per cent of the mobile devices that are brought into services centers in India have water damage, which is what motivated him to create a completely waterproof phone for the Indian market. He estimates that it will be priced between Rs. 4,200 and Rs. 4,500.
GlobyTalky was not the only participant that showcased a waterproof phone, though. IVIO, a mobile brand owned by the Indonesian company PT. Intersys, was also giving demonstrations on their waterproof smartphone, the DG68. With its sleek design, 4.1-inch high-resolution screen, 3G and Wifi capabilities, capacitate touch and Android 4.0 OS, the DG68 is a much more sophisticated phone than the G-Aqua. However, IVIO has yet to release any of its devices onto the Indian market, and the DG68 is still a prototype.
The ShenZhen BLEPHONE Technology Co., Ltd., the company that owns the popular mobile brands Lesun and Lephone (the latter of which is available on the Indian market), also had a popular booth. Aside from their large presentation of feature phones and smartphones, BLEPHONE also showcased some interesting innovations and accessories. In particular, I was quite impressed by their Lephone mobile USB charging devices, called the CooMax, and their Lesun digital recorder-cum-mobile phone, the Gift I.
| | |
| --- | --- |
ICOMM2012 was a hugely successful exhibition. Aside from showcasing many of the most interesting and significant innovations and actors in the Asian ICT sectors, and possibly the wider world, the event was able to attract more than 21,500 delegates over a two-day period.[6] Further, according to NK Goyal, the president of the CMAI Association of India, the fair was able to generate business leads worth USD 154 million.[7] I highly encourage anyone interested in the exciting and ever-changing world of ICT to attend ICOMM2013, as it is sure to continue to grow and attract more and more exciting and fascinating technologies and devices.
---
Given below is a gallery of the photos taken at the event and of various other booths and devices.
---
[1]. The CMAI Association of India is a prominent trade association that works to promote growth in the Indian IT and telecom sector domestically and internationally through activities such as investing in industry services and promotion, education, training and market research. Through consultation, events, advocacy, research and promotion, the CMAI now boasts a substantial amount of members and international partners, as well as multiple international offices. More information can be found on the CMAI Association of India at http://www.cmai.asia/association.php
[2]. See: "7th ICOMM 2012 Held Successfully." EFYTimes.com, EFY Enterprises Pvt. Ltd., September 17th, 2012, http://www.efytimes.com/e1/fullnews.asp?edid=90770. Last accessed on October 30th, 2012.
[3]. The UbiSlate tablet is the commercial version of Datawind Ltd.'s Aakask tablet, a high-functioning low-cost tablet device that was developed in collaboration with the Indian government as part of the country's endeavor to supply Indian college and university students with a low-cost computer device. This project was part of the government's aim to provide an e-learning service to 25,000 colleges and 500 universities across India (this figure was retrieved from http://www.bbc.co.uk/news/world-south-asia-10740817). More data on this device can be found at: http://www.akashtablet.com/
[4]. SMSInfosys is a mobile phone testing company with offices in India, Hong Kong and China. They perform quality assurance/quality control inspection, certification verification and IMEI services to mobile phone producers. More information about the company can be found here: http://smsinfosys.com/
[5]. More information on this brand and product line can be found here: http://globytalky.com/
[6].See: "7th ICOMM 2012 Held Successfully." EFYTimes.com, EFY Enterprises Pvt. Ltd., September 17th, 2012, http://www.efytimes.com/e1/fullnews.asp?edid=90770. Last accessed on October 30th, 2012.
[7]. See: "7th ICOMM 2012 Held Successfully." EFYTimes.com, EFY Enterprises Pvt. Ltd., September 17th, 2012, http://www.efytimes.com/e1/fullnews.asp?edid=90770. Last accessed on October 30th, 2012.