Telugu Wikipedians create Articles on Punjab in Telugu Wikipedia
Telugu Wikipedians created articles on Punjab in a national level contest. Telugu Wikipedians received a trophy during the closing ceremony of Wiki conference India at Chandigarh.
Telugu Wikipedians created more than 450 articles about Punjab in Telugu Wiki and shared their experiences with English and Malayalam Wikpedians. Along with Pranay Raj, Pavan santhosh worked in co-ordination and Viswanadh in organizing support for this edit-a-thon. Venkata Ramana, Meena Gayathri, Ravi Chandra, Pavan Santhosh, Murali Mohan, Sujatha, Sultan Khadar, Viswanadh, Bhaskara Naidu, Manikantha, Rahmanuddin, Rajasekhar and few others participated in this edit-a-thon and created Punjab related articles such as Punjab cuisine, Punjabi language, history of Sikhism, Punjabi way of dressing, Punjabi dialects and many such aspects. Telugu Wikipedians also made a presentation on the various developments in Telugu Wikipedia.
Media Coverage
Telugu regional press covered the Punjab edit-a-thon and about the Telugu Wikipedia winning the trophy. The Centre for Internet and Society provided support by releasing an open press note that could be edited by the Wikipedia community in Village pump for press relations.
Coverage in Sakshi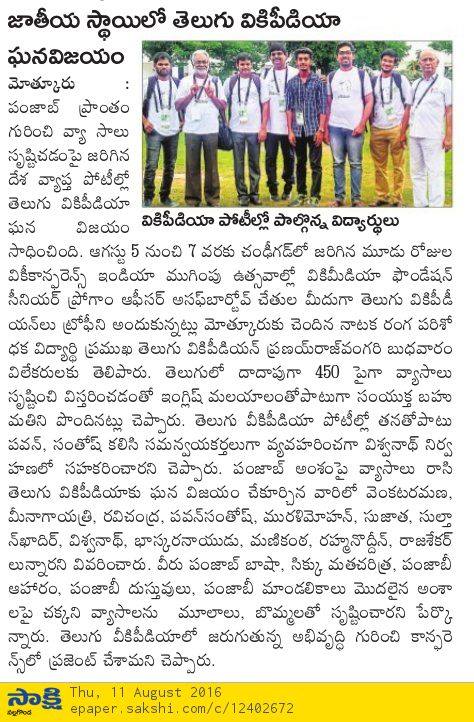 Coverage in Eenadu