Report on the Use of eSpeak in Urdu and Kashmiri
NVDA team conducted a training programme at Kashmir University from June 15 to 17, 2015. Forty-four delegates attended the training programme. Kaifee Asami was the trainer.
A participant seen asking a question during the training session held in Kashmir
Inauguration
The programme was inaugurated by the District Commissioner of Srinagar. He emphasised the importance of Technology in lives of persons with visual impairment. Head of Radio Kashmir, Head of Cell for the differently-abled students, Kashmir University, Head Librarian – Alama Iqbal Library and Head of Students Cell also graced the occasion.

The inauguration was followed by a press conference. At least 7 members of print and electronic media covered the function. The event also got a lot of publicity on Doordarshan Kashmir and Radio Kashmir.

The inaugural function was attended by more than 100 persons with blindness, parents of blind students, faculty and staff of Kashmir University and volunteers helping during the event.

The main training was conducted in the Reading / Training room of Alama Iqbal Library. Commendable efforts were put in by the library staff for arranging for the 2 day training.

Students from all across the Kashmir valley attended the training. They were overwhelmed by the technology presented. Most of them were very new to screen readers, whilst most had never imagined that reading and writing in Urdu was possible for blind persons.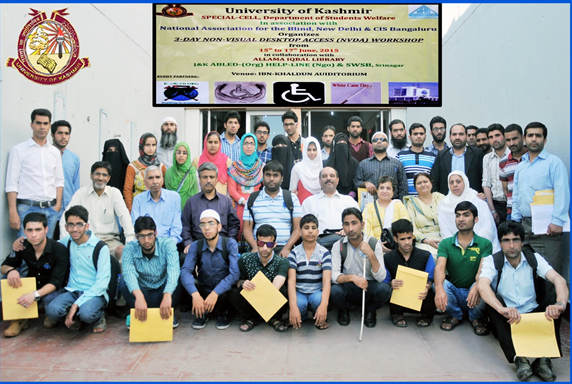 Above: File photo of delegates posing at the end of the training session held in Kashmir
The event was declared as a grand success by one and all. There were numerous requests for conducting many more such trainings,as J&K has been left out of the technological revolution.