Training in eSpeak Hindi
NVDA team conducted a workshop at Jeevan Jyoti School for the Blind, Varanasi from August 26 to 28, 2015. Eighty five students and 13 teachers took part in the training programme.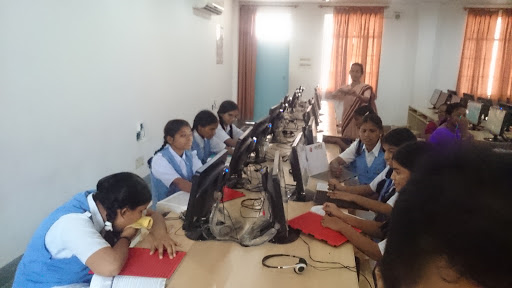 Pictured above: Trainer is explaining the concepts of NVDA to the students
This workshop had special focus on training the teachers who teach the Blind students of Jeevan Jyoti School, Varanasi and Special Educators, who are being trained in the School for Special Educators at Jeevan Jyoti Institute, Varanasi. The workshop was also attended by senior students of the Jeevan Jyoti Blind school. It was observed that there was a lot of enthusiasm for learning amongst the students and staff. The students wanted to learn Hindi Reading and Writing for reading a lot of Hindi material, which is being produced at the School. The staff wanted to learn Hindi writing for creating documents for their blind students. The Jeevan Jyoti school has an integrated format, where in it caters to about 200 students, of whom about 80 are girls with visual impairment.

The event started with a welcome song by the senior girls, followed by an understanding of the needs of the participants. This was followed by detailed understanding of NVDA and its comparision to other screen readers. The participants were guided towards the steps for downloading the latest build of NVDA from its website. They were than given detailed instructions for installing NVDA. All the participants than installed NVDA onn their respective systems. This was followed by explanation of the different menus of NVDA. The participants were than encouraged to read hindi text. The initial reactions  of the students was as expected. Some could understand the text spoken out by Espeak, and some found it difficult to comprehend.

On the 2nd day the participants were given detailed understanding of the Inscript keyboard. They were made to practice all the keys, followed by typing small words followed by short sentences. The participants were than updated about the different sources of reading, including Bookshare. They were guided as to how to become a member of Bookshare. Details were also given about DFI and the Common Catlogue on the DFI website. The participants were than given information about the different reading solutions, including the Android platform. They were also given information about the ADIP scheme of the Ministry of Social Justice. The ADIP forms were also given to the management, for them to fill up for all the blind students studying in Jeevan Jyoti.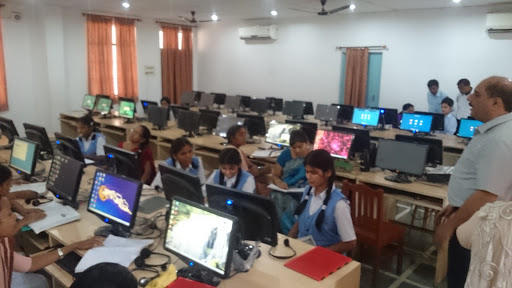 Pictured above: Students operating their computers under guidance from the trainer
The 3rd day was dedicated to the teachers and students of the Special Educators school, where in they were updated about Modern Techniques for Teaching the Blind.