The Big Debit Card Breach: Three Things Card Holders Need To Understand
A total of 32 lakh debit cards across 19 banks could have been compromised on account of a purported fraud, the National Payment Corporation of India said in a statement.
The article by Alex Mathew was published by Bloomberg on October 20, 2016. Udbhav Tiwari was quoted.
---
The issue was brought to light when State Bank of India blocked the debit cards of 6 lakh customers on October 14. This was done after the bank was alerted to a possible fraud by the National Payment Corporation of India, MasterCard and Visa, said Managing Director Rajnish Kumar in a telephonic interview with BloombergQuint.
In a statement released on Thursday evening, the NPCI clarified that the problem was brought to their attention when they received complaints from a few banks that customers' cards were used fraudulently, mainly in China and the U.S., while those cardholders were in India.
"The complaints of fraudulent withdrawal are limited to cards of 19 banks and 641 customers. The total amount involved is Rs 1.3 crore as reported by various affected banks to NPCI," the payments corporation said.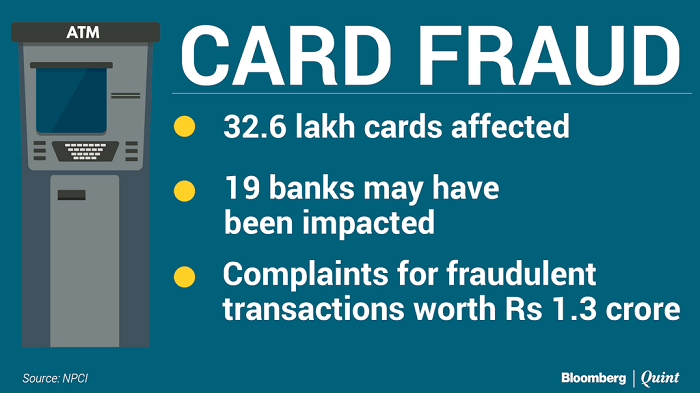 SISA Security, a Bengaluru-based company is currently undertaking a forensic study to identify the extent of the problem and will submit a final report in November.
Based on the advisory issued by NPCI and other schemes, it is gathered that banks have advised their customers to change their debit card PIN. In situations where customers could not be contacted, the cards have been blocked and fresh cards are being issued by member banks.
NPCI statement
State Bank of India has blocked 6 lakh cards, while other banks have sent notifications to customers advising them to change their personal identification numbers.
How The Breach Could Have Occured
The breach that has apparently given hackers access to the PIN codes of several bank customers is likely to be on account of a malware attack. This attack is believed to have originated at an ATM.
The actual modus operandi of the hackers will only become clear once the forensic audit is released in November, but BloombergQuint spoke to cyber security expert Udbhav Tiwari to find out how the attack could have been orchestrated.
First, the hacker would have had to gain physical access to an ATM. The malware was then likely injected by connecting a laptop or another special device to a port on the cash disbursing machine, said Tiwari, a consultant at Centre For Internet & Society in Bengaluru.
Once the malware is injected, it automatically spreads across the network and infects other devices that are not protected against it. In this case, the malware could have infected a payment switch provider's network.
A payment switch provider is an entity that facilitates a transaction either from an ATM or an online payment gateway. The service provider decides to whom the request for authorisation will be sent and then transmits the request back to the merchant or the ATM where the transaction originated.
In this case, one payment switch provider, Hitachi Payment Services, which manages close to 50,000 ATMs across the country, was asked by banks to investigate 30 of its ATMs on account of around 400 suspicious transactions that took place outside India, Managing Director Loney Antony told BloombergQuint in a telephonic interview.
The company had earlier said in a statement that an interim report by the audit agency does not suggest any breach or compromise in its systems.
The Scale Of The Breach
According to a study conducted by NPCI in collaboration with the banks, the number of debit cards that were infected by the malware has been set at 32 lakh. But Tiwari said this number could be higher.
The hypothetical limit to how much the malware can spread is dependent on the vulnerability of the systems, and if one of the payment switch provider's systems was vulnerable and they still haven't decided how many systems are vulnerable, it is quite possible that the malware is spreading at this point.
Udbhav Tiwari, Consultant, Centre For Internet & Society
What A Customer Should Do
The first, and most important step a customer should take is to immediately change their debit card PIN, Tiwari pointed out.
State Bank of India has said that its customers can opt to restrict the usage of their debit cards, for example whether it can be used both internationally and domestically or only domestically. Also, the daily limit of the debit card can be changed.
Once these steps have been taken, according to Tiwari, it is most important that customers stay vigilant and keep monitoring their bank statements. If an unauthorised transaction takes place, a customer should immediately contact their bank and block their card.