Indian Government still blocks 20+ websites – Indian Censorship on Internet
Indian Government has blocked 20+ major websites to counter ISIS propaganda. The government has removed blocking of github.com, vimeo.com and other 10+ websites blocked till December 31, 2014.
The article was published in the Times of Assam on January 2, 2015. Pranesh Prakash is quoted.
---
A confidential department of telecom order – dated December 17, 2014 – instructing all internet service licensees to block the websites appeared online on Wednesday.
When contacted to verify the news, Dr Gulshan Rai – Director of the Indian Computer Emergency Response Team (CERT-In) – told, the directions had been issued to internet service providers following a Mumbai Additional Chief metropolitan magistrate's November order directing the government's Department of Electronics and Information Technology (DeitY) to implement the same.
Pranesh Prakash – Policy Director at Bengaluru-based Center for Internet and Society – questioned the lack of transparency around the practice of blocking websites under the Indian law. "Qn for govt: Why does the law require secrecy of web blocking orders when it doesn't allow such secrecy for books, films? #GoIBlocks," he tweeted, adding, "The 69A Rules don't allow for transparency, accountability, time-limits on blocks, etc. So easily misused by govt. + courts + individuals." The websites were blocked under section 69 A of the IT Act, 2000 and the IT (Procedure and sdafeguards for Blocking of Access of Information by Public) rules, 2009.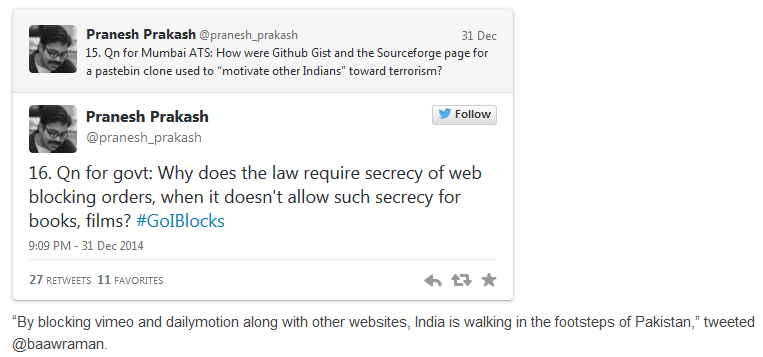 Currently, the Supreme Court is in the middle of hearing a clutch of petitions challenging several IT Act provisions, including blocking and takedown of websites.