Securing e-Governance
On June 16, 2012, Privacy India in partnership with the Centre for Internet & Society, Bangalore, International Development Research Centre, Canada, Privacy International, UK and the Society in Action Group, Gurgaon organised a public discussion on "Securing e-Governance: Ensuring Data Protection and Privacy", at the Ahmedabad Management Association.
The conversation brought together a cross section of citizens, lawyers, activists, researchers, academia and students.
Prashant Iyengar, Assistant Professor, Jindal Global Law, opened the conference with an explanation of Privacy India's mandate to raise awareness, spark civil action and promote democratic dialogue around privacy challenges and violations in India. He summarized the series of eight consultation previously organized across India in Kolkata on January 23, 2011, in Bangalore on February 5, 2011, in Ahmedabad on March 26, 2011, in Guwahati on June 23, 2011, in Chennai on August 6, 2011, in Mumbai on January 21, 2012, in New Delhi on February 3, 2012 and again in New Delhi on February 4, 2012.

He described an egregious instance where the State Government of Karnataka, announced a plan to "post on its website all details of (1.51 crore) ration cardholders in the state", to weed out duplicate ration cards and promote transparency. Details posted on the website would include the "ration card number, category of card (BPL/APL), names and photographs of the head and other members of a family, address, sources of income, LPG gas connection and number of cylinders in village/taluk/district wise." An official said, "This would also work as a marriage bureau, for instance, a boy can see a photograph of a girl on the website and see whether she suits him".[1]

He described another embarrassing incident, which took place in 2008. Sixteen surveillance cameras were stolen from the Taj Mahal. After they had been replaced, in December 2010, it was reported that all of the CCTVs in the Taj Mahal had stopped working due to a "virus attack" on their computer systems. The district administration and the police department were apparently in disagreement as to who bore the burden of their maintenance.
| | |
| --- | --- |
| Prof. Subhash Bhatnagar, Advisor Center for e-Governance IIM, Ahmedabad, dismissed the notion that privacy is irrelevant in India. A survey on e-governance, of 50,000 people conducted in major cities of India shows that confidentiality and security of data were among the top 3 concerns among 20 choices. He discussed various mission mode projects in the National e-Governance Plan that holds and shares large amounts of data on individuals and business. He referred to his personal experience when enrolling for UID. He noticed that the box concerning consent for sharing of information with third parties was, by default, automatically ticked. When he asked the UID staff, they mentioned that the software does not allow for enrollment to continue if the box is not ticked. He called for increased vigilance among citizens, a phone helpline dedicated to resolution of privacy intrusions and sensitizing designers of e-Governance projects. | |
| | |
| --- | --- |
| | Dr. Nityesh Bhatt, Sr. Associate Prof and Chairperson-Information Management Area, Institute of Management, Nirma University, Ahmedabad, stressed the importance of limiting access of information on a need-to-know basis, which is one of the most fundamental security principles. He described various characteristics of information security management including: planning, policy, programs, protection, people and project management. Lastly, he recommended 'SETA' as an essential program, designed to reduce the incidence of accidental security breaches by employees, contractors, consultants, vendors, and business partners. A SETA program consists of three elements: security education, security training, and security awareness. It can improve employee behavior and enables the organization to hold employees accountable for their actions. |
Dr. Neeta Shah, Director (e-Governance) Gujarat Informatics Limited, described the extent of e-governance initiatives in Gujarat (there are more than 100 e-governance applications running) and its impact. She discussed successful e-governance initiatives that have helped solve critical problems such as the online teacher application process, which accelerates the recruitment process of primary teachers.

E-governance applications of various departments ensure security of data and privacy protection through the following measures:

Network security (NIPS, Firewalls, content filtering, HIPS, antivirus, etc.)
Data security (robust SAN environment with high raid levels to prevent any data loss)
Application security (audited by empanelled TPA)
DR/BCP provisioning (real-time data is replicated to DR site in case of any physical calamity or damage to resources at primary site, backup exists at remote different seismological locations)

When designing e-government projects, the government tends to think about security of the system, but not privacy of the data. Security in the minds of the government is achieved through strengthening infrastructure, but they often overlook the human dynamic.



Gopalkrishnan Devnathan (Kris dev), Co-founder, International Transparency and Accountability Network, described e-Governance as the application of Information and Communication Technology for delivering government services. It involves the integration of various systems and services between Government-to-Citizens, Government-to-Business, Government-to-Government as well as back office processes and interactions within the entire government framework. E-governance initiatives can ensure privacy and security through:

Securing data/transaction using Smart Card with triple access control, Card, PIN and Biometrics (multimodal)
Mirrored data storage with proper security
Indelible audit trail using encrypted flat file
Prevent server intrusion and data theft upfront rather than do post-mortem analysis
Information on data accessed can be communicated on real time basis using ICT tools

Lastly, he identified the usefulness, inhibitions and potential security solutions for the Unique Identification System.
| | |
| --- | --- |
| | Anindya Kumar Banerjee, Regional Manager- East, CG & MP at Ncomputing Inc., discussed a comparative analysis of e-governance initiatives in India. He analyzed various factors such as ease of use, simplicity of procedures, time savings compared to manual, affordable cost of service and reduction in corruption. He described the difference infrastructural threats of security and privacy in e-Governance. |
| | |
| --- | --- |
| Dr. Mrinalini Shah, Professor of Operations Management at Institute of Management Technology, Ghaziabad identified the slow legal system and multiple jurisdiction system as a challenge for privacy and security of data and implementations of suitable access controls and authorization as a helping factor. | |
Utkarsh Jani, Advocate, Jani Advocates, described the relevant section of the Information Technology Act (ITA) relating to privacy and the political and social challenges surrounding the right to privacy. He discussed the right to privacy vis-à-vis data protection.  Though the ITA does enforce a level of data protection, it is far from flawless.

The ITA lacks the following:

The definition and classification of data types.

The nature and protection of the categories of data.

Data controllers and data processors have distinct
Clear restrictions on the manner of data collection.
Clear guidelines on the purposes for which the data can be put and to whom it can be sent.

Standards and technical measures governing the collection, storage, access to, protection, retention and destruction of data.
It does not provide strong safeguard and penalties against the aforesaid breaches.
Sunny Vaghela, Founder and CTO, TechDefence Pvt. Ltd., provided a hacker's perspective to security and privacy issues in e-governance. Cyber crimes such as privacy violations and data breaches are increasing because of the dependence on complex computer infrastructures. Complex computer infrastructures make systems vulnerable because if one application is hacked, the entire network can be accessed and compromised.

He conducted a live demonstration, showing how simple it is to hack into a government website. From his personal experience as an ethical hacker, he stated that government agencies are extremely negligent about the privacy and the security of data. A major concern with e-governance websites is that they not designed with privacy in mind, leaving the personal and private details of citizens vulnerable.

He called for full penetration testing and vulnerability assessment of e-governance portals in order to maintain the privacy of citizens and protect government data. Some government websites that were hacked include AMC e-governance (was awarded one best e-governance award in 2010), CBI server and the Income Tax of India server.

Lastly, he described the frequent mistakes made by the government in e-Governance projects. The government started using the e-Governance systems in 2003. Typically, three things are a component of the application: the person, the source code and the database, but the security is on the network. Governments work on developing the network to be secure, but they often overlook the application. A solution to this could be the use of high interaction honey pots.
Nisha Thompson, Data Project Manager at Arghyam/ India Water Portal, discussed the increased amount of data generated through e-governance initiatives and its impact. When more data is generated and collected, politics and privacy become intertwined. There can be a conflict between opening up data and privacy thus; one needs to decide on parameters. For example, with regards to privacy and national security, parameters should be in place to determine where privacy ends and the public good starts. In India, this line does not begin with the individual as it does in many contexts. Collective privacy in India is important. She described various online tools that increase transparency and awareness such as: Transparency Chennai, India Governs and I Paid a Bribe.

Over the course of the day, participants engaged in lively discussion on various issues such as the objectives and features of e-governance, examples of e-governance projects, and the parameters, problems, loopholes and tensions in e-governance projects.

Participants response to privacy concerns have to a large extent focused on the fact that e-Governance is a double-edge sword. E-governance initiatives are an invariable tool for ensuring wider participation and deeper involvement of citizens, institutions, NGOs as well as private firms in the decision making process. However, the political and regulatory environment must be strengthened.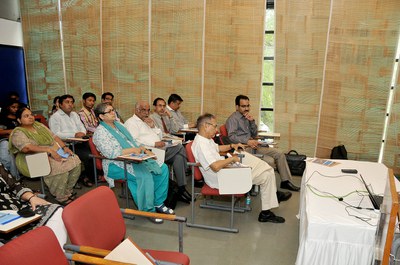 About Privacy India
Privacy India was established in 2010 with the objective of raising awareness, sparking civil action and promoting democratic dialogue around privacy challenges and violations in India. One of our goals is to build consensus towards the promulgation of comprehensive privacy legislation in India through consultations with the public, policymakers, legislators and the legal and academic community.
---
[1] Nagesh Prabhu, A way to check bogus ration cards, THE HINDU, September 18, 2010, http://www.thehindu.com/todays-paper/tp-national/tp-karnataka/article696087.ece (last visited Oct 23, 2011).
---
Click below to download the following resources:
E-Governance, Identity and Privacy [PDF, 253 Kb]
Event Brochure [PDF, 1618 Kb]