Launch of Assamese Wikipedia Education Program at Guwahati University
The Assamese Wikipedia community has shown a rapid growth in the past six months from 20 active editors in January 2012 to 29 active editors in June 2012. The absolute numbers might seem low but in terms of percentages its an overwhelming increment of 45 per cent.
Given here is a picture of the Assamese Wikipedia education program being conducted in Guwahati University
This increment can partly be credited to  the photography and article contest, conducting workshops at various educational institutions and organic community growth.
Though Assamese Wikipedia is still a small project with about 1600 articles, the Assamese Wikipedians have the drive, willingness and zest to get more editors and multiply their community. Their enthusiasm and determination has led them to start with an Assamese Wikipedia Education Program. The program was launched on October 14, 2012 with 15 masters students (90 per cent of these are women students) under the guidance of Prof. Dulumoni Goswami, Head of the Department of Education, Guwahati University.
The day before the launch some of the Assamese Wikipedia editors including Jyoti and Durbhajyoti met to design and alter the Wikipedia Education Program for Assamese Wikipedia. It was decided that the entire program will be divided in four different stages which are as follows:
Stage 1: Introduction to Wikipedia + Introduction to Education Program + Assamese typing
Stage 2: Editing Assamese Wikipedia
Stage 3: Advanced editing including adding references, headers, TOC and wiki markups
Stage 4: Concluding the Education Program
In accordance with each of these stages there will be set of deliverables expected out of the students which are as follows:
Deliverable 1: Create Wikipedia user accounts and user pages
Deliverable 2: Submit a two-page typed article in Assamese
Deliverable 3: Students will select one article each and start editing their articles
Deliverable 4: Students will continue enhancing their articles and will start adding references, wiki markups and pictures, if desired.
| | |
| --- | --- |
| Assamese Wikipedia Education Program initiated in Guwahati University | On Oct 14, 2012 at 11 a.m., the program was initiated with an introduction about Assamese Wikipedia and Wikipedia Education Program. Students were completely thrilled with the idea of them contributing to Wikipedia articles and created their usernames during the session. Since students were not familiar with Assamese typing a larger part of the session was dedicated to teach students on how to type in Assamese using Rudali. As a deliverable, students will be submitting two-page article typed in Assamese on paper before the first week of November. Thereafter, a second in-class session will be organized where students will be taught editing Assamese Wikipedia. |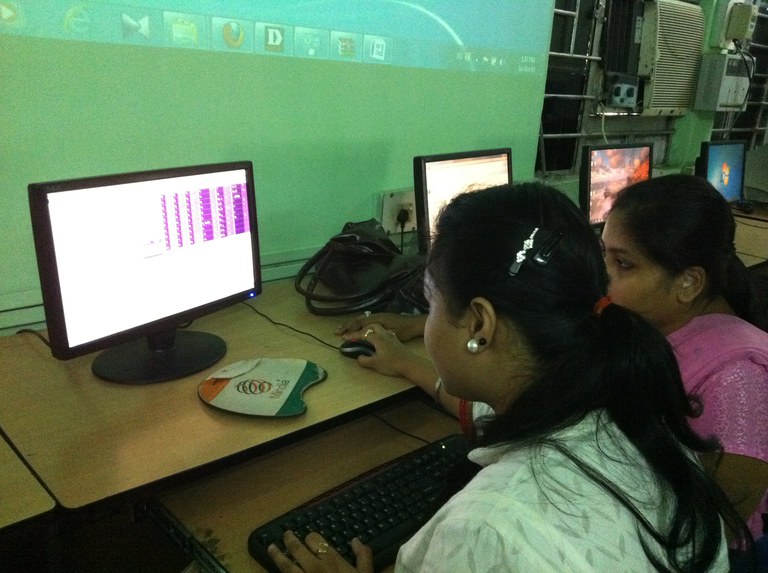 Students learn Assamese typing using typing tool Rudali.
All the students have willingly enrolled themselves in the program and have not been forced by the faculty members. Indeed, three students were not studying in Guwahati University but still wanted to be a part of the Assamese Education Program. A loud cheer and good wishes to the Assamese Wikipedia community!
---
Video