Mozilla Brings Indian Communities Together
I took part in two major events, Indic FirefoxOS L10n Sprint 2014 and MozCamp Beta – India organized by Mozilla in India as a voluntary contributor. In this blog post I am sharing with you my experience of the events.
Image by:Opensource.com (CC-BY-SA 3.0 License)
The article was published on the website of Opensource.com on July 13, 2014. It can be read here.
---
Mozilla organized two national events in India during the month of June this year: Indic FirefoxOS L10n Sprint 2014 and Mozcamp Beta 2014.
Indic FirefoxOS L10n Sprint 2014 was more of an implementation-based sprint with the goal to motivate Indic language localization teams to translate strings for its upcoming Firefox OS based $25 phone. Mozcamp India Beta was an event for meeting mentors, planning for the future, and strategizing Mozilla's mission in India.
Indic FirefoxOS L10n Sprint 2014
The Indic FirefoxOS L10n Sprint 2014 was held at Red Hat's Pune office, June 7 and 8, 2014. This was the first time 13 Indic language communities came under one roof to translate interface strings together, commented Mozilla Community Manager, Arky. During the two day sprint, most language groups (2 - 4 members strong) completed more than 40% of the localizations that will appear as interface strings for Firefox OS, an upcoming operating system for mobile and tablet devices. Mozilla released its developer test phones, starting with GeeksPhone Keon in April of last year, started thinking of the mobile users from the emerging nations leaving the west for Android, iOS, and Windows 8. Bringing cheaper phones to people with an interface in their own language could help to make phones smarter for common users. Assamese, Bangla, Hindi, Gujarati, Maithili, Malayalam, Marathi, Kannada, Odia, Punjabi, Telugu, Tamil, and Urdu are the 13 language communities that took part in the event.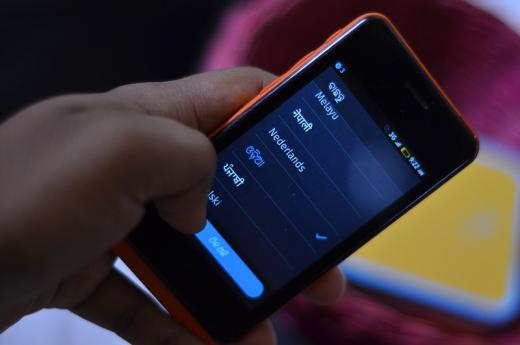 Photo by Subhashish Panigrahi (CC-BY-SA 3.0 License)

Mozcamp Beta 2014
The Mozcamp India beta event aimed to bring core contributors from multiple communities housed under the Mozilla umbrella and engage with them in a participatory and learning way. Staffers from Mozilla who are responsible for various projects and products worked with these contributors over three days (June 20 - 22) building strategies for best practices for recruiting new contributors, mentoring them, and sustaining the communities in a long run. The project page says, "MozCamp Beta is an experiment. This is the first time Mozilla is testing how to train contributors to bring in more contributors across the project."
Mozilla's core product, the Firefox browser's expanding wing, Firefox OS, was the center of attention. Mozilla is working with two Indian brands, Spice and Intex, to produce phones that are expected to be around $25, thus revolutionizing the smartphone world. Some of the sessions during the event focused on breaking the notion that app making so technical that it can only be done by some. New projects like Mozilla's Appmaker give users the option to create a web app and flash it into the Firefox OS device without knowing any code. Similarly, a session covered the User Centered Design process, a new way for users to create an app by drawing it on paper and brainstorming on paper about useful functionalities.
These two events were a grand display of user contribution and what makes Mozilla a creativity-seeking organization. "Mozilla is committed to make the web free and fun. We aim to have the maximum number of Maker parties in India this year to promote web literacy and having students to create and curate Open Educational Resources," says Mozilla's Global Strategist and Manager of the Webmaker mentor team, Michelle Thorne.