An Odia Wikipedia Workshop at Academy of Media Learning
Odia Wikipedians were invited to Academy of Media Learning (AML), Bhubaneswar for a guest lecture and a workshop on contributing to Odia Wikipedia. The event was organised by the Centre for Internet & Society on November 10, 2012. This is a report about the activities in AML.
A participant learns about contributing to Wikipedia
Soon after Odia Wiki community got felicitated by OdishaDiary.co for Youth Achievement Award for their outstanding contribution for Odia language many institutions have started taking the work of the wikipedians with more seriousness. To empower the community with more activities active members took part in a discussion to start more long term projects like "education programs". In early November, a couple of meetups and workshops were organized in different institutions in Odisha. One of those institutions in Academy of Media Learning. It is a budding institution for journalism and digital media in the city of Bhubaneswar. The institute is led by the Founder-CEO of this institution Nilambar Rath, a veteran journalist and news producer and Saumya Parida, Executive Editor and journalist in the Odia media circle. Subhashish Panigrahi of CIS was invited to AML along with other fellow Wikipedians for a guest lecture and workshop about "Contibution to Wikipedia and its Benefits for Students".
Odia wikipedians like Ansuman Giri, Manoranjan Behera and Diptiman Panigrahi also came over for the event.
Meeting with Nilambar Rath and Saumya Parida
Prior to the lecture and workshop, wikipedians discussed about the education program with the faculty members on how it is essential to engage students in such a program. Subhashish explained the older education programs for other language and the recent Odia Wikipedia Education Program initiated at the Indian Institute of Mass Communication, Dhenkanal. During this meeting Mr. Rath also suggested to include more linguists and Odia language professors in the community who would guide on standards of language, writing style and grammar as Odia Wikipedia is being accessed more on a daily basis by the main stream media.
Workshop
There were a small set of enthusiast communication students gathered for the event. Subhashish took them through a presentation explaining about Wikipedia, how people like them contribute to Wikipedia and make it grow day by day and how Odia Wikipedia was started. The participants were surprised to see Odia Wikipedia for the first time! Even being communication students and working closely with Odia media they have never came through it. After the presentation he emphasized about the reason why we are focusing on long term support programs like "education program" and how it would be beneficial for students. Students were given a small break for asking queries before a training workshop on editing Odia Wikipedia. One of the students was invited to create his user account. Wikipedians explained how to type in Odia using the typing scheme. Few of the students were invited to edit and make small changes in various articles. Going forward, students were shown Chatasabha and the facebook group page to ask queries online.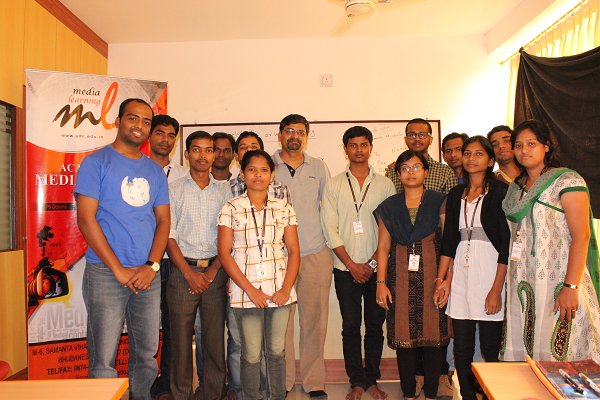 A picture of the participants at the Odia Wikipedia workshop at Academy of Media Learning
Picture credit: Manoranjan Behera