Wikipedia workshop @ Inmantec College, Ghaziabad
The Access to Knowledge team at the Centre for Internet & Society was approached by Gaurav Prashar, Assistant Dean at Inmantec College, Ghaziabad to organize a Wikipedia workshop. Accordingly, a workshop was organized on October 17, 2012.
Participants seated in the auditorium at the Wikipedia workshop in Inmantec College
It was quite overwhelming to see the amount of effort the institution had put in to organize this event. It took place in a large auditorium which was well equipped with all modern facilities like projector, internet, good sound system, each student had a laptop with access to stable internet connection.
Over 120 participants attended the workshop including MCA, BCA, BBA students and faculty members. The workshop included a brief introduction about - what is Wikipedia, who edits Wikipedia, why do they edit Wikipedia, how can one contribute to Wikipedia articles. The presentation was followed by a hands on editing training session where some participants created usernames and tried minor editing.
During the session participants also created a new article, Inmantec, and have taken it as a challenge to edit and improve this article over the period of next one month.
Participants listening to the proceedings at the Wikipedia workshop


The session was highly interactive and students asked a lot of queries regarding other projects supported by Wikimedia Foundation, when and who started Wikipedia, the demographics of existing Wikipedia editors, edit wars, collaborative editing, how they can participate in other activities organized by the A2K team and more.

Towards the end of the session many students showed interest to organize a follow up workshop where they could get to know about Wikipedia Clubs and how they could initiate one at Inmantec college.
Overall, the workshop was a huge success. The A2K team will be in regular touch with the participants through mail and Facebook to provide editing support. The participants will also be sent regular invites about Wikipedia events organised in NCR. The follow up session might be organized sometime in the month of November. Please watch out for more updates.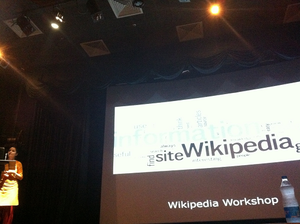 Presentation being given during Wikipedia workshop held in Ghaziabad
---
Video