Rare Telugu religious and historical work preserved at Annamacharya library to come on Wikisource!
Telugu Wikipedia Community and the Centre for Internet & Society conducted a day long edit-a-thon at Annamaya Library on August 6, 2015 at Andhra Loyola College, Vijayawada.
Some of the rarest religious and historical works in Telugu language that are preserved in the Annamacharya library, Guntur are soon be made available to the public on the internet. With the cutting age tool like Telugu Wikipedia, a group of students of Andhra Loyola College, Vijayawada are going to start writing about various historical heritage of Andhra Prasadesh on Telugu Wikipedia tomorrow, the 6th August 2015. The Annamaya Library edit-a-thon that is being collaboratively organised by the Telugu Wikipedia community and The Centre for Internet and Society's Access To Knowledge programme is designed to teach students to enrich Telugu Wikipedia with the rare books available in the library. They will also contribute in writing about the rare books the library has been preserving for many years now—in Telugu, English and other seven Indian languages like Sanskrit, Kannada, Hindi and Tamil ranging over a few areas. The library is associated with Tirumala Tirupati Devasthanam Trust and has been active in the preservation of age-old Telugu religious literature with using cutting age digital technology. The library has done pioneering work in digitisation of notable Telugu poet Annamacharya's "Sankeertanas" in the past.

The Telugu Wikipedia is arguably the largest online encyclopedia in Telugu language with over 61,506 articles ranging from art to culture and from science to various humanities. Over 50 active editors edit the encyclopedia voluntarily. Similarly the Telugu Wikisource, a sister project of Wikipedia and an online library, is as rich as with 26,763 folios from many of the rarest books in Telugu language. Both the projects will now be primarily used to explore and open the great collection of Telugu language and literature preserved in the Annamaya library to masses.
The students from Andhra Loyola College along with senior Telugu Wikimedians Bhaskar Naidu and GullapalliNageshwara Rao will be participating in the edit-a-thon and create articles about the books at the library. Andhra Loyola College has been a partner of CIS-A2K since 2014 where 23 books of Telugu poet Shri Vireshalingama were digitised.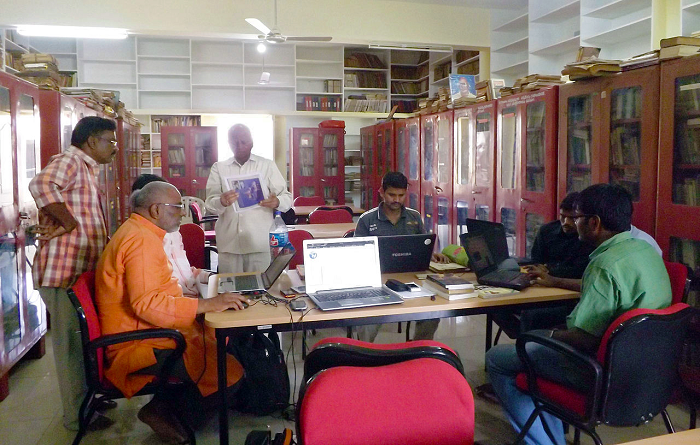 Image of a Wikipedia training for the staff at the Annamaya library, freely licesed by Viswanadh.B.K under CC-by-SA 3.0.