A billion mobile users: new startup profiles and innovation insights from Mobile India 2016
The annual Mobile India conference, for which YourStory was the media partner, wrapped up recently in Bengaluru with a startup showcase and a wide range of insights on mobile innovation in India.
Image: shutterstock
The blog post by Sneha Maselkar and Madanmohan Rao was first published in Your Story on January 14, 2016. Sunil Abraham was quoted.
---
Chaired by professors V. Sridhar of IIIT Bangalore and D. Manjunath of IIT Bombay, the event's theme was 'The App Economy.' (See YourStory coverage of the earlier editions of this conference: 2015, 2014 and 2013).
Mobile innovators
New products were presented by innovators like Pravin Bhagwat, Founder and Chief Technology Officer, AirTight Networks. The company is creating an app store based on 'social WiFi,' riding on Google+ and Facebook. A number of interesting startups like IoTM2MSolutions were also at the event. Founded by Ismail Zabihullahh in 2009, the 15-member team has a range of offerings in home automation, RFID biometrics, street lighting and smart parking solutions.
Inaccel is a med-tech accelerator founded in 2014 by Siraj Dhanani, Vijayarajan and Dr. Jagish Chaturvedi. It address the needs, resource and skill gaps, and price-sensitivity of clinical markets, and helps startups conceptualise, design, engineer, and achieve regulatory certification. Its portfolio picks companies with a five-year horizon, in exchange for equity stakes.
Dataglen was formed in 2014 by Deva P. Seetharam, Tanuja Ganu, Sunil Ghai and Rajesh Kunnath. It provides Internet of Things (IoT) data collection and management services, and provides an API for users to develop applications on a variety of computing platforms. The startup charges for data management services based on the volume of transactions and for any required customisation services.
Czar Securities was founded in August 2013 by Shikhil Sharma and Ananda Krishna. Two employees Deepankar Tyagi and Nakul Gulati joined in quick succession. The cyber security solutions company secures corporate IT infrastructure from cyber attacks. Offerings include ASTRA, an intrusion prevention system, as well as penetration testing and security audit services.
Infilect was founded in April 2015 by Vijay Gabale and Anand Prabhu Subramanian. They are building an AI-enabled personalised fashion shopping assistant. The product, Photolect, helps in discovery, search and personalisation for online shoppers by parsing of photos. The product is in beta-test mode with several fashion experts evaluating its features.
Sattva Medtech was founded in 2014 by Vibhav Joshi and Sumedh Kaulgud. They are developing a next-generation fetal health monitoring device which leverages advanced sensors and algorithms. This device, called the Sattva Fetal Lite, has been designed and engineered for use in India and other low-and-mid-income countries; the team has raised an undisclosed amount in seed funding from InnAccel.
Coeo Labs was founded in October 2014 by Nitesh Kumar Jangir and Nachiket Deval. It is a medical device company, developing products in the field of emergency and critical care. Offerings include a device to reduce chances of acquiring ventilator-associated pneumonia (VAP), and a mechanical CPAP machine (mCPAP) for transport of neonates with troubled breathing, from a resource-constrained setting to a neonatal ICU.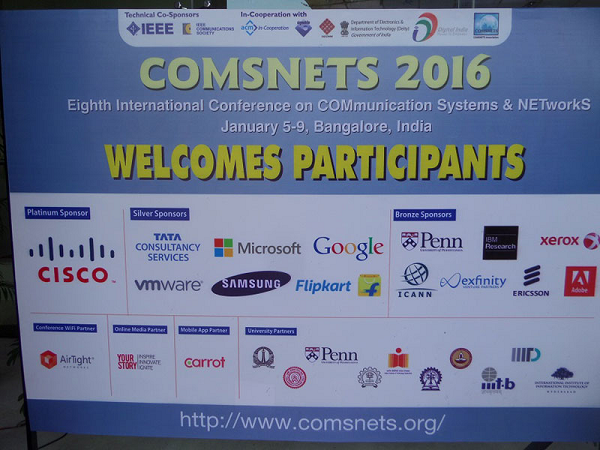 IoT scenarios
Over a dozen experts from India and the US discussed the latest mobile trends in a day of packed panel sessions and keynotes. Interface design, usable security and systems integration are key success factors for IoT, according to Henning Schulzrinne, Professor at Columbia University, and CTO, United States Federal Communications Commission. Consumer and industrial IoT scenarios differ with respect to predictability, redundancy, energy consumption and interoperability.
He pointed out categories and uses cases of high IoT impacts: automation of manual data extraction (metering), remote maintenance (vending machines), extraction of additional information (thermostats) and software-defined mechanics (locks, switches).
"IoT networks won't operate just on mobile carriers, but also on other networks such as Zigbee and Bluetooth," Henning explained. The Internet itself will be transformed by IoT. "Protocols matter, programmability matters more," he added. The Internet is becoming more than the Internet protocol; plug-and-play is becoming augmented by plug-and-programme in the IoT world.
The 'DNA' of apps
The proliferation of apps can lead to the rise of localised app stores in local languages, said Chinnu Senthilkumar, CTO, Exfinity Ventures, pointing to Korea as an example in this regard. "Many apps are local. How well do you know the digital literacy of your neighbourhood users," he asked.
Most apps in India are of the 'me-too' type; developers need to incorporate better user experience (UX) and bring in more cross-disciplinary experience (see earlier insights from the UX India 2015 conference and NASSCOM NPC 2015). "Security is still an afterthought in app development," cautioned Chinnu.
"You need to figure out the DNA of the mobile experience: Device, Network, App," explained Amar Nagaram, Director, Mobile Engineering, Flipkart. The e-commerce giant classifies devices into four broad categories, and its app design factors in the app size, data stored on the device, and computational power of the device.
Battery requirements of the device and packet drop rates on mobile networks are major constraints on app performance in India. Online shopping lets users interact with catalogues as well as product experts.
"I had to unlearn a lot of things from the Internet world which may not apply in a similar manner to the app world. For example, not all older versions of apps need to be supported," explained Amar.
"Ask yourself, what does your app do for consumers?" advised Pradeep Nair, Co-Founder and CEO, Confianzys. Developers should be looking not at product-market fit, but market-product fit. "Industries die because of their myopia; they focus on past products and not future consumer needs," he said, urging developers to track-long term megatrends as well.
Telcos' role in the App Economy
The telecommunications world is changing rapidly due to trends like IoT, new breeds of apps, video boom and Big Data, observed Ishwardutt Parulkar, Cisco Distinguished Engineer. Telcos are struggling to get new drivers for existing services, new revenue sources, and new sources of consumer loyalty.
"Telcos need to provide APIs to developers for embedding telco services and network analytics data. Telcos can also play a bigger role in mobile advertising, for example network-wide ad blocking, as in the case of Jamaica," advised Ishwardutt. Telcos can exploit synergy with cloud services, and resell SaaS products bundled with telco products.
"We are witnessing major waves of disruptive innovation today: the rise from oblivion to the top is rapid – and so is the fall from the top," said SR Raja, Associate Vice President, Persistent Systems. Many incumbents tend to suffer from ignorance, inertia, and the inability to do little more than tweak or tinker with existing offerings.
There is a Moore's Law variant for all architecture components, including programming languages. Hence, telcos need to master new business models blending product and service, advised Raja. "Even regulated industries can be disrupted from outside – look at Uber and Tesla. Will telcos experiment with surge pricing like Uber, or become IoT solutions systems integrators," he asked. For example, operator O2 has used mobile identity to launch its own messaging OTT app, and Vodafone is getting into IoT services.
Operators and Net Neutrality
The Mobile India conference took place with the backdrop of a heated battle over Net Neutrality between Facebook's Free Basics and Internet activists from India, which has received a lot of media coverage in India and overseas.
This calls for the digital media community and entrepreneur ecosystem to pay attention to complex but important issues such as Internet governance. "The next billion users in India may be very different from the current billion, in terms of geography, language and access device," observed Samiran Gupta, Head-India, Internet Corporation for Assigned Names and Numbers (ICANN).
ICANN's objective is to maintain inter-operability of the Internet, and there is a unique opportunity for emerging economies to play a stronger role in Internet governance, in issues such as local languages and scripts.
Regulation and digital innovation
Regulators have major challenges ahead in juggling the needs of multiple stakeholders and demands for different slices of spectrum. "There are 43 different kinds of radio-communication services competing for spectrum," said Pavan Garg, Former Wireless Adviser, GoI, and former Member, Radio Regulations Board, ITU, Geneva.
Regulators need to become much more savvy on the kind of collusions possible between industry heavyweights, according to Sunil Abraham, Executive Director, Centre for Internet and Society.
If India gets its IP regime correct, the local language content economy can be boosted, in addition to other civic benefits. For example, giving anonymised data access to independent researchers has helped LIRNEasia come up with better transportation design in Sri Lanka.
The discussion covered a wide range of interesting possibilities. In the EU, it is mandated that all mobile phones be able to display all European languages. Can India do the same for local languages? Will regulation promote support for Indic language technology on mobiles, or should this be left purely to the market? Organisations such as the Telecommunications Standards Development Society, India (TSDSI) is working on Indian language standards in ICTs.
The app economy can indeed be accelerated with proactive government intervention, said Parnil Urdhwareshe, Research Assistant at ICRIER and co-author of a report on 'Impact of India's App Economy.' India's app ecosystem could be worth Rs 2,000 crore in 2016; it created about 75,000 direct jobs in 2015, according to the report.
The government can pass regulations on apps covering privacy, Net Neutrality and safety, eg. SoS buttons, medical apps. The UK government has drawn up a range of app guidelines covering issues such as in-app purchases.
"Design in India is more important than Make In India," said Vipin Tyagi, Executive Director, C-DOT, drawing attention to issues of participatory design and citizen-centric services rather than only one-way top-down initiatives from government and large industry players.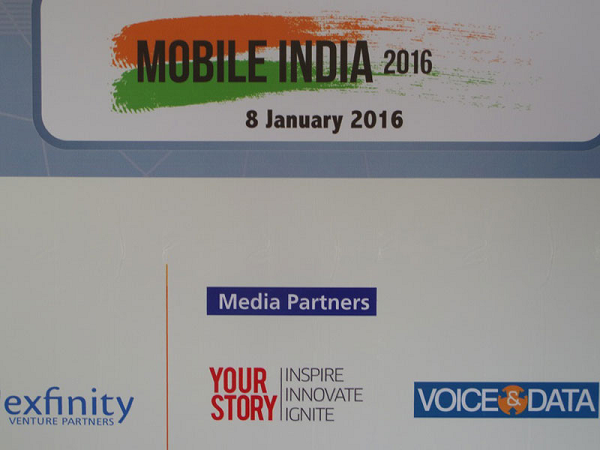 The road ahead
Broadband penetration in India is only 10 per cent. By 2018, video will be 62 per cent of India's mobile data traffic, and there will be 526 million Internet users, according to Anil Kaushal, Member, Telecom Regulatory Authority of India (TRAI).
The government's BharatNet initiative aims to connect 2,50,000 Gram Panchayats across the country. TRAI has given recommendations for Virtual Network Operators, wherein niche players can offer Smart City services.
In addition to regulators, operators and developers, success of the app economy also rests on responsible user behaviour, said Deepak Maheshwari, Head-Government Affairs, Symantec. "Be more active with respect to data encryption on your device. Use multi-factor authentication," he advised.
Seventy per cent of India's population lives in villages; digital innovation will help bring education and healthcare to them, said Vimal Wakhlu, Chairman & Managing Director, TCIL. There are also global extensions and markets for Indian innovations, such as the Pan-African E-Network targeted at 53 countries. There are major uses of ICTs across India, such as monitoring the cleaning of the Ganges as well as water gate management in Gujarat, Vimal added.
"India needs to mandate telecom infrastructure in real estate development and town planning. Digital media will change the way we learn and earn," said T.R. Dua, Director General, Tower and Infrastructure Providers Association (TAIPA) India, and Co-Chair ITU APT Foundation of India.