CIS-A2K proposal to Wikimedia Foundation for 2019-2020
The Centre for Internet & Society's Access to Knowledge team (CIS-A2K) has submitted its proposal form for the year 2019 - 2020 to the Wikimedia Foundation. CIS thanks all community members who gave valuable suggestions and inputs for drafting this proposal.
Grants:APG/Proposals/2018-2019 round 2/The Centre for Internet and Society/Proposal form
The Centre for Internet and Society (CIS) is a non-profit organisation registered in India that works in different areas such as accessibility, openness, internet governance, telecom, research, etc. The organisation's official website may be seen at cis-india.org. Annual reports of the Centre for Internet and Society may be seen here.
The Access to Knowledge (A2K) program of CIS[2] is dedicated to supporting and serving Indian Wikimedia projects and the communities. In the last few years, CIS-A2K has worked towards creating sustainable programs and building community capacity. The primary objectives of CIS-A2K are:
Supporting and serving the Indian Wikimedia communities in all possible ways.
Building institutional partnerships.
Bringing more content under free license
Designing and executing projects with community participation.
Strengthening the Wikimedia volunteers.
Fostering and enabling an appropriate legal and technological ecosystem.
In 2018–2019 CIS-A2K worked with Kannada, Marathi, Odia, and Telugu communities as Focused Language Area, and Punjabi Wikisource as a Focused Project Area. Some of the major events conducted by CIS-A2K in last 1 year were:
CIS-A2K is also working with like-minded organisations and institutions such as Christ University, Bangalore, Maharashtra Knowledge Corporation, Vigyan Ashram, Punyashlok Ahilyadevi Holkar Solapur University, Odisha state government etc to improve content on different Wikimedia projects and to bring more content to the projects.
Proposal overview
1. Please provide a brief description of your organisation's work in the upcoming funding period.
The Centre for Internet and Society – Access to Knowledge is submitting the work-plan for the period 1 July 2019 to 30 June 2020. Our plans and programs may be divided into the following verticals:
in Content Enrichment, we are proposing activities like edit-a-thons, Wikisource proofread and validation campaign, Wikidata label-a-thons and data-thons, photowalks etc. We'll also work with like-minded institutions and organisations to conduct thematic edit-a-thons or similar activities that will help to improve content on different Indic Wikimedia projects;
in Skill Development Initiatives, we are proposing to conduct activities like Zonal Wiki workshops, MediaWiki Training, and Wikidata workshop etc. We will also conduct zonal and regional workshops on different Wikimedia projects.
in Partnership, we will continue our work with the existing partners, and we'll build new partneships. We are proposing activities like outreach, awareness sessions, and workshops for content donation, increasing awareness about the Wiki movement and bridging gender gap;
in Leadership, we are proposing activities like Train-the-Trainer, Wikisource Conference, Wikimedia Summit India, Intensive Personal Wiki Training, supporting Indic Wikimedians through request page etc.
In this work-plan year, CIS-A2K will continue its transition from Focused Language Area (FLA) to Focused Project Area (FPA).
Focused Language Area: Focused Language Area is an approach of CIS-A2K, where we work with a community with all its projects and activities. In other words, CIS-A2K supports all wiki-activities of a particular language community. So far Kannada, Konkani, Odia, Marathi, Tulu, Telugu have been our FLAs.
Focused Project Area: Focused Project Area or FPA is an approach of CIS-A2K introduced in 2018–2019 work-plan where CIS-A2K mainly focuses on projects. In 2018–2019 CIS-A2K collaborated with Punjabi Wikimedians, and our focused projects for Punjabi Wikimedians were Punjabi mostly Wikisource and Institutional Partnership. In the same year, we increased our support towards Wikisource communities in India, appointed a Wikisource project advisor, and conducted and supported several Wikisource project events. In November 2018, we conducted a national-level Wikisource consultation.
We'll plan programs and activities accordingly keeping (Wikipedia) and Wikisource and Wikidata in mind. We will focus on these two projects as based on our interaction with Indian Wikimedia community members, we have found several Indic Wikimedia communities want further support and focus on these projects. CIS-A2K earlier put some effort to support these projects, and this work-plan year we will put more effort.
CIS-A2K will continue working towards creating an inclusive Wiki atmosphere in the Indian subcontinent. With an emphasis on creating safe spaces, promoting gender gap bridging activities A2K team would like to work with all the Indian communities, projects and individuals with interesting ideas and for the overall development of Wikimedia movement. Bridging gender gap will remain as a primary focus of CIS-A2K. We'll try to ensure at least 25% of female participants in all the events conducted by CIS-A2K. We'll conduct a quarterly audit, and present the report in our newsletters.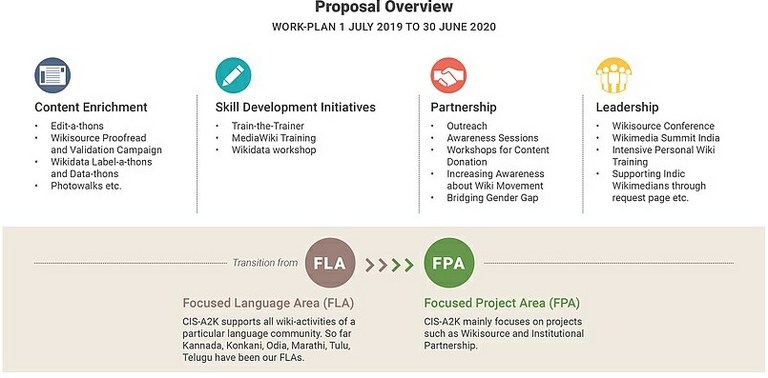 ---
Read the full proposal on Wikipedia page