Pervasive Mobile Technologies: Meet Our Mobile Devices!
As a part of the Pervasive Technologies: Access to Knowledge in the Marketplace research project, the Centre for Internet & Society (CIS) is researching 12 mobile phone devices to generate a better understanding of the intellectual property (IP) implications of pervasive mobile technologies available in the Indian market. This post is an introduction to our 12 mobile phones.
Given here is a picture of one of our mobile phones, device 006
As detailed in my introductory blog on Pervasive Technologies: Access to Knowledge in the Marketplace Research Initiative, CIS will be conducting research on mobile technologies as a small off-shoot of the overall project. Pervasive technologies that can be purchased for less than USD 100 play an integral role in bringing access to knowledge to those that routinely face barriers to the consumption of information. However, their legality, particularly in terms of their use of IP, is unclear. In order to better understand the legal environment in which these technologies exist, CIS purchased 12 mobile phones to study the patent implications of their hardware, software and content.
Through examination, research, interviews and consultancies, we hope to create an in-depth documentation of each device, an extensive database or account of the patents implicated, and a number of narrower research avenues on topics related to IP, patents, and mobile technologies.
This blog post will serve as a brief introduction to our mobile devices. The information that I have compiled was discovered through shallow interaction with the phones — turning a device on and exploring the interface and content — which is why the documentation is not particularly extensive at this point. I have had difficulty identifying certain features of some of the phones, like which media formats they support or whether or not they are EDGE[2] — enable, but I am confident that I will be able to ascertain these specifications in the near future; however, certain features, like what OS (operating system) they run on and what chip set they are using, will require collaboration with experts to identify. The exploration is on-going, and more information will be posted as it is discovered.
Aside from all of the usual functions of a mobile phone (making calls, receiving calls, saving numbers, etc.), each of our mobiles devices possess what I have termed the "basics": dual GSM SIM capabilities with dual standby, the ability to connect to 2G networks, GPRS, a WAP browser (except device 011), bluetooth capabilities, a microSD slot, a dual camera (a camera that takes still photos and records video), an FM radio receiver and the ability to play .mp3 audio files and .mp4 video files, record audio and view .jpg images. Each phone also has a handful of various "utilities" and "extras" applications (such as an alarm, a calculator, a calendar, etc.) as well as at least one game. The full specifications of each phone will be provided in the near future, along with further pictures of each device.
As much of the research in this project pertains to the IP implications of the devices, we have decided to withhold the make and model of each device to shield the producers from any negative repercussions that could be the result of our research inquiries. They have been assigned the numeric code names 001 to 012.
Without further ado, I'd like to introduce you to our mobile phones:
001 - The Classroom in a Box
Price: Rs. 6,300.00 / $113.00
KEY FEATURES
Pico-Projector
Analog TV Receiver
MS Office Document Viewer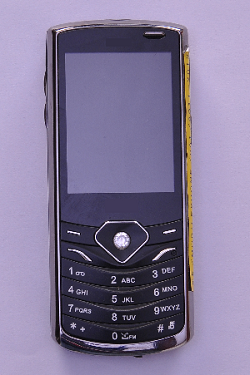 This bar-design feature phone has all of the basics with a few added bonuses: an analog TV receiver, viewer, and a built-in pico-projector that projects the mobile's screen onto any surface. Though this phone does not technically fall into our definition of pervasive technologies because of its price, it was the first mobile phone with a built-in pico-projector as well as an analog TV receiver available on the Indian market for less than Rs. 10,000 when it was purchased more than a year ago. Since then, other sub-USD100 pico-projector mobile devices have made an appearance on the Indian market, but each of those devices appear to have been discontinued and 001 continues to be the cheapest pico-projector mobile phone available for purchase.
002 - The Supercharger
Price: Rs. 2,499.00 / $45.00
KEY FEATURES
Solar Panel
Hindi Keyboard
| | | |
| --- | --- | --- |
| | 002 is a sleek candybar feature phone with a particularly interesting innovation. While it uses a standard lithium-ion battery that can be recharged via connection to a wall socket or electrical device (such as a laptop), it also has a built-in solar panel that can generate some charge as well. The solar panel technology is not yet very efficient—the panel would have to be placed in direct sunlight for multiple hours to fully charge the battery—but it represents an important step towards untethering mobile phones and mobile phone users from costly electricity infrastructure, a development that would have significant implications for rural populations who have unreliable access to electricity. | |
003 - The Networker
Price: Rs. 1,250.00 / $22.00
KEY FEATURES
Wi-Fi
Optical Trackpad
Secondary Forward-facing Camera
Support for 8 Languages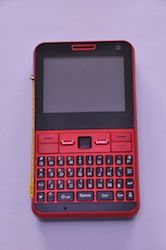 With a boxy, QWERTY-keyboard design and relatively small screen, 003 does not appear, at first glance, to be anymore than an average feature phone — but appearances can be deceiving. With a highly responsive optical trackpad, an analog TV receiver, BlackBerry-esque interface and WiFi capabilities, this mobile device packs some sophisticated technologies and features. Further, it is the only phone in our collection that can connect to the internet using WLAN networks.
Considering that some of the other devices are much more complex — and expensive — than 003, the wide-spread exclusion of WiFi capabilities in our collection is intriguing. Is the choice to include or exclude mobile technology a matter of economics? Are cellular WiFi components expensive, and producers are choosing to exclude WiFi as a method of cutting costs? Is it simply a response to patterns of consumer demand? The WiFi questions will be explored in more depth in up-coming blog posts.
004 - The Linguist
Price: Rs. 2,250.00 / $40.00
KEY FEATURES
Android-like OS
Support for 14 Languages
Secondary Forward-facing Camera
Large Number of Pre-loaded Apps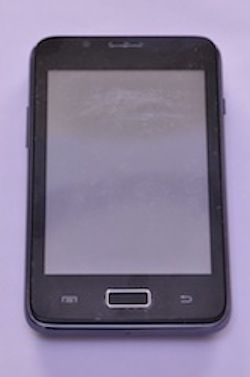 Though it may be hard to believe at first glance, this mobile device was purchased for less than Rs. 2500. With its large internal memory, support for 14 different languages (including Tamil, Bengali and Hindi), and its large array of pre-loaded games and social media applications already set it apart from the less sophisticated mobiles in our collection, 004 also runs on a mysterious Android-like operating system similar to the popular MIUI Android ROM developed by the Chinese-based company Xiaomi Tech. This give it a very sophisticated interface with the look and feel of a smartphone, though the device itself lacks many of the capabilities that are often considered as smartphone criteria (GPS, high-speed internet access, push/pull email, Wi-Fi, an app store, etc.). Because this device, and others like it in our collection, have more sophisticated hardware, software and content than a generic feature phone, but are not as capable as a smartphone, I have taken to calling these devices "semi-smart".

005 - TV on the Go
Price: Rs. 1,450.00 / $26.00
KEY FEATURES
Analog TV receiver
Arabic Keyboard
Secondary Forward-facing Camera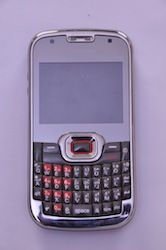 Though it doesn't have any particular innovation that sets it apart from the other devices, 005 is a hardy QWERTY-design feature phone with all of the basics as well as a good collection of social media applications and an analog TV receiver. Though its keyboard can be programmed to write in English, Tamil, Arabic and Hindi script, the buttons have the Arabic abjad on them, which brings up the question of which market this mobile was originally designed for.

006 - The Spy
Price: Rs. 1,680.00 / $30.00
KEY FEATURES:
Secondary "Spy" Camera
Ability to behave as a modem via USB connection
| | | |
| --- | --- | --- |
| | 006 is an interesting candy bar feature phone. On initial examination, this mobile appears to be a completely generic feature phones with all of the basics, but nothing auxiliary. However, a more careful inspection will reveal a secondary camera with an unusual placement — instead of being place at the top of the screen like all of the other secondary cameras found on our devices, this camera is situated on the right hand side of the phone. | |
The manufacturer of this device actually refers to this secondary camera as a "spy" camera, and it is truly an appropriate name; from a distance, it looks more like a headphone jack than a camera, and its placement allows for photo and video to be taken without any suspicious movement or positioning by the user. The secondary camera has 1.3 megapixels and can take relatively high resolution photos and videos.
007 - The Semi-Smartphone
Price: Rs. 2,150.00 / $39.00
KEY FEATURES
Android-like OS (maybe MIUI)
USB Tethering
Push Email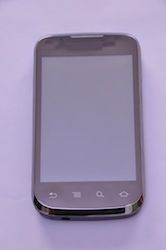 Device 007 is a semi-smart touchscreen phone, and by far the most sophisticated device in our collection. We believe that it uses MIUI OS, which gives it a very similar look to Android and a functionality that is reminiscent of iOSx. While it doesn't have an app store, 007 is jam-packed with pre-loaded applications and can support a wide variety of file formats. Further, while the phone cannot connect to WLAN networks on its own; it can connect to WiFi by tethering to a networked device via USB connection.
008 - The Trendy
Price: Rs. 2,350.00 / $42.00
KEY FEATURES
Android-like OS
Support for 9 languages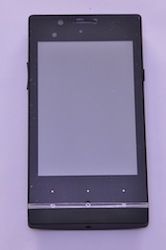 Another mainstream look-alike, 008 runs the same unidentified OS as device 004 and has similar capabilities. Its plastic casing is a bit flimsy, but its "back", "home" and "list" buttons are touch sensitive. Its sophisticated OS and pre-loaded applications make it a semi-smart device.
009 - The Boombox
Price: Rs. 1,420.00 / $26.00
KEY FEATURES
Huge built-in speaker
Android-like OS
| | | |
| --- | --- | --- |
| | Though it is less recognizable than some of the other devices, this mobile may have one of the significant smartphone qualifiers that our other devices lack: an app store — or what appears to be an app store. The app store icon itself is actually the icon for the Android app store, but the interface is completely different, and the only thing available for download is a handful of games. Interestingly enough, many of these games also make appearances on some of the other mobile devices (like fishing joy and tear clothes). Further, I would not call this phone semi-smart, as its interface is not particularly any more sophisticated than some of the other feature phones in our collection. | |
009 also features a large built-in speaker, the Opera Mini mobile browser and an Android-like OS, though this OS is less sophisticated than that of 004 and 008.
010 - 3D
Price: Rs. 1,440.00 / $26.00
KEY FEATURES
Android-like OS
Pre-loaded Stereoscopic (3D) videos
Support for 13 languages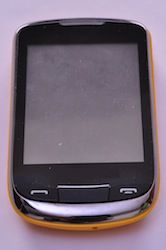 This semi-smart touchscreen phone also has an Android-like operating system. Though it lacks an app store and push-email, it comes pre-loaded with a veritable smorgasbord of games and social media applications and supports 13 different languages. It also comes with a pair of 3D glasses and two short, very basic pre-loaded stereoscopic videos.
011 - The Mighty Mini
Price: Rs. 750.00 / $14.00
KEY FEATURES
Dual GSM SIM support
Best bang-for-your-buck for a basic mobile phone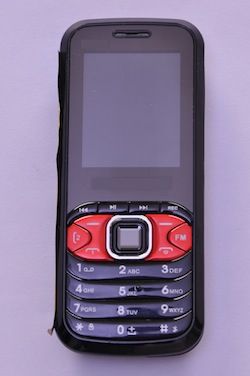 At Rs. 750, this little feature phone was the least expensive phone we could find that still had almost all of the basics. Even without any extra features, it is still almost Rs. 200 cheaper than the majority of the most basic GSM dual SIM mobiles available on the formal Indian market[3]— and, in most cases, 011 has more capabilities than most of those devices. With .mp3 and .mp4 file playback, a dual camera, colour display, a WAP browser, MMS messaging support, two charging ports and Urdu and Hindi language support, this mobile phone personifies affordable accessibility to knowledge and media.
012 - The Pianist
Price: Rs. 1,550.00 / $28.00
KEY FEATURES
Touch piano
Two charging ports
Support for a multitude of audio, video and image formats
 

012 is a basic candy bar feature phone with a particularly novel innovation: a touch piano. It is quite sensitive to touch and has a one octave range.
---
013 - The Indian Experience
Price: Rs. 2,100.00 / $38.00
KEY FEATURES
India specific content
Proprietary App Store
This little touchscreen mobile is chockfull of "Indian-specific" content, including an application that links directly to an online portal where consumers can download "Hungama" videos, music and movies onto the phone—for a price. Many of the games also charge a monthly user fee, though interestingly enough, Angry Birds and Talking Tom Cat are pre-loaded and free to play. This phone also has a proprietary app store with a limited amount of mBounce4] applications and games available for purchase. I am not yet sure if this app store can be remotely updated with new apps, but the device can receive data vis USB connection, so it is possible that new applications can be added through direct file transfer.

It also has keyboard support for English, Hindi and Tamil, but the interface cannot be set it appear in anything other than English.
[2]. Enhanced Data rates for GSM Evolution, also known as Enchanced GPRS (EGPRS) is a mobile phone technology that also improved data transmission on GSM networks. It is considered a pre-3G radio technology. Read more about it here: https://en.wikipedia.org/wiki/Enhanced_Data_Rates_for_GSM_Evolution
[3]. Information retrieved from www.flipkart.com. The prices shown here have been verified as being the same or very similar (though never more expensive) to the prices offered by each brand's official distributors. See Flipkart search links:
[4] mBounce Ltd is a Hong Kong-based company that performs a variety of mobile phone application support services like proprietary in-house billing infrastructure for app stores, the pre-loading of applications and app stores, and application creation. They are MediaTek-nominated key partner in providing MRE (Maui Runtime Environment) App Store Solutions, but mBounce applications and software can also be placed on other mobile operating systems. You can read more about mBounce here: http://www.mbounce.com/?lang=eng&module=ltrbox&menu=m1&content=home and here: http://developer.mediatek.com/mre/en/partner/335