Wikisource:Internship Project at New Law College, Pune
This Wiki - internship project is being conducted for New Law College (Pune),under the guidance of Prof.Dr.Mukund Sarda, Dean and Principal of NLC by CIS A2K as part of this project at en wikisource; teams of students will acomplish proof reading, validation, compilation annotation etc. of Indian Laws and to begin with Copyright laws and Intellectual property laws at Portal:Copyright law/Copyright law of India.
Next /intermittant stages of a (internship) project, may be conducted on english wikipedia for case studies part, and for questions answers, research etc on english wikiversity.
WikiProject is dedicated to posting and organizing pages for Acts of the Indian Parliament and other Indian legislation. Present collaboration :Intellectual Property Acts: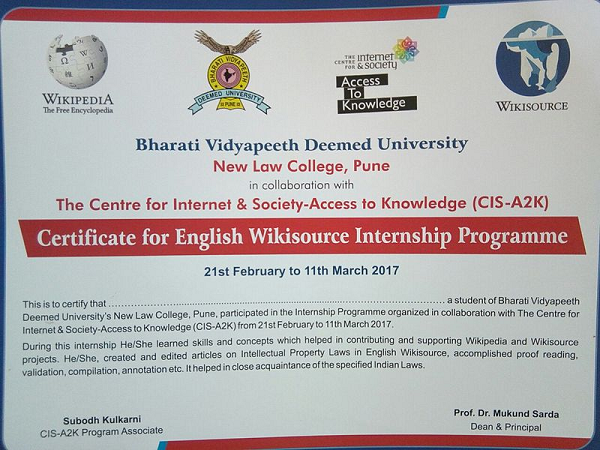 More information on Wikimedia Blog