Mapping Digital Media: Broadcasting, Journalism and Activism in India: A Public Consultation
Lawyers, researchers, journalists and activists gathered on Sunday, October 27, 2013 at the Bangalore International Centre in response to India's country report on Mapping Digital Media, which examines citizen's access to quality news and information across different industries, and impacts on media freedoms as a result of digitisation. Respondents examined themes related to regulation, journalism and activism, and engaging discussions took place among attendees.
Respondents of various perspectives spoke for the public consultation regarding different sections of the Mapping Digital Media: India report.
---
On behalf of event organizers, we invite you to view the report, available online for free access here: "Mapping Digital Media: India.
---
Event organizers, Alternative Law Forum, The Centre for Internet & Society, and Maraa, held a public consultation at the Bangalore International Centre with the ultimate goals to inform and engage the public within key themes of the Mapping Digital Media: India report, as a new knowledge basis for better understanding India's transitioning digital landscape. Many resulting ideas about moving forward with the report's findings also came about, as prospective proceeding steps within the life cycle following the report's release.
Respondents consisted of reputed media lawyers, researchers, journalists, activist and other media professionals. Each spoke before the meeting room within three panel discussions pertaining to different sections of the report: Policies, Laws and Regulators; Digital Activism; and Digital Journalism. Each speaker shed a new light on key challenges confronting our emergent digital media landscape with special focus given to broadcasting (radio and television), cable operations and newspapers (print & online) as each of these sectors undergo digitisation.
Opening
Vibodh Parthasarathi, who had anchored the country report, started off the consultation by underscoring the report's objective of mapping the different sectors and seemingly disparate aspects of India's complex media landscape. Following a brief introduction to the report was the setting of the stage by Alternative Law Forum Co-founder and Partner, Lawrence Liang, as he shared the ultimate aims of the event in speaking collectively to the report so that we may gain a better understanding of an area that is otherwise opaque by most. Lawrence also brings to the forefront the report's debunking of the idea of the digital divide for India, and its account of a rich media landscape.
Policies, Laws and Regulators
The consultation's first panel discussion was started by Lawrence, as he responded to the report from a perspective of legality. Lawrence examines the role of the state in India's rich media landscape, specifically in terms of the four values at the centre of such: freedom of speech and expression, access to infrastructure, the question of development, and the question of market regulations—all of which are tied together within the country report.  Lawrence argues that we must arrive at quantitative measures of accessing diversity and quantity of freedom of speech, but only after understanding the ecology in which freedom of speech operates, and attempts to do so in examining drafted policies, policing measures, and market regulatory measures taken within the context of India.
| | |
| --- | --- |
| Thirty attendees including journalists, activists, academics, and lawyers, all brought forth different perspectives on digital media in India. | Following was Matthew John, Associate Professor and Executive Director of the Centre on Public law and Jurisprudence. Matthew shared his impressions on the report, while making reference to three issues the report asks us to rethink; these being: public reason, the regulatory state, and the question of distribution. Matthew gives rise to a democratic problem in the public sphere of communication and claims that how it is addressed and resolved must be paid attention to. He makes reference to the history of telecom cases in responding to the question of how we are going to think about freed up telecom, and contrasts different types of regulatory agencies in asking the question of whether or not we should separate regulation from politics. |
An engaging discussion following this panel's speakers took place. Amongst points made by event attendees includes questions of how to scale up the citizen's stake in media within a legal paradigm, as well as points made with reference to challenges to equity in media in terms of content and challenges to such.
Digital Media and Society (Digital Activism)
The discussion had begun with panelist, Arjun Venkatraman, Co-founder of the Mojolab Foundation as well as the digital activism platform, Swara. Arjun engages within the digital media debate in speaking on behalf of members of civil society that act from within the digital divide and exposes the gaps within new modes of activism that arise out of a lack of understanding on how to engage with these new medias. He also informed attendees of how to make cheap IVR based voice portals, linking voice users to the web for under USD200 as means of leveraging users' voices via unlicensed spectrum.
Also contributing to the discussion on digital activism was Meera K, Cofounder of Bangalore News publication, Citizen Matters. In examining examples of new spaces that digital media has provided for the exchange of pluralistic views and alternative voices, Meera critiques different types of activism that have emerged, including  social activism, political activism, and middle class activism. She questions whether new media can be seen as sufficient space for free speech with reference to various challenges, such as the polarization of debates, and also compares and contrasts the positive outcomes of new media campaigns—such as tangible capitalized solutions—with corresponding pitfalls.
A debate amongst attendees followed in response to the question of assessing the value of media in terms of impact or size of public outreach, along with how content is generated and controlled.
Digital Media and Journalism
Independent journalist and media analyst, Geeta Seshu, got the conversation started regarding digital media and journalism by comparing the pitfalls of journalism in traditional media with the possibilities offered by digital journalism. Geeta argues that journalists have become devalued and are losing their footing within traditional media. She discussed the new forms of journalism and how news can be generated in an interactive and non-hierarchical manner and examined the intersections of mainstream media and journalism.  She questions the possibility of digital journalism existing on its own, without the influence of or incorporation of principles of traditional media, and grapples with possibilities for providing a new model for doing so.
The day's last speaker was Subhash Rai, Associate Editor of New Indian Express. Subhash offers a mainstream perspective and argues that we must look at traditional and mainstream forms of media as a starting point for emerging forms of journalism before we can begin to understand these journalism models better. Just as well, traditional and mainstreams means of news dissemination can learn from digital media, however we should not be quick to look away from the core of the entire picture, as traditional forms of media are still very strong in comparison.
A discussion followed surrounded questions posed by speakers and attendees, such as what digital journalism should look like, and how such a transition to new forms of media should be imagined. How information has changed with respect to its creation and consumption was debated as well.
Moving Forward
Before the conclusion of the public consultation, attendees and speakers discussed future advancements for the country report.  Many recommendations and ideas were generated, including suggestions for future public consultations, advocacy windows offered by the report, and ways to produce another iteration of the report. Prospective initiatives included online working groups to dive deeper into specific themes of the report, a Hackathon where attendees will pool ideas together, and follow-up public consultations.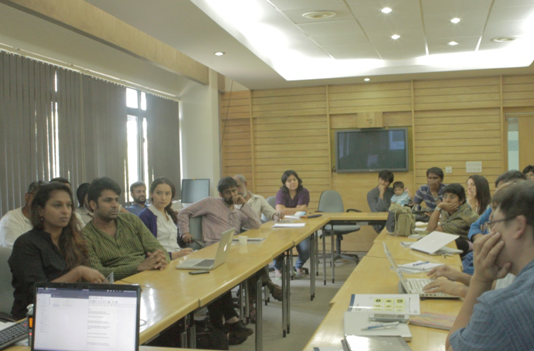 Participants brainstormed together on how to move forward the report's findings. Many ideas were drafted, including a Hack-a-thon and online focus groups.
The event's agenda went as follows:
Time
Detail
10.00 a.m.
Introductory Remarks by Vibodh Parthasarathi, CCMG, Jamia
10.15 a.m. - 11.30 a.m.
Policies, Laws and Regulators
Session Moderator – Ram Bhat
Speakers – Lawrence Liang (ALF) and Mathew John (JGLS)

11.30 a.m. - 11.45 a.m.

Tea Break

11.45 a.m. - 1.15 p.m.
Digital Media and Society (Digital Activism)
Session Moderator – Lawrence Liang
Speakers – Arjun Venkatraman (Mojolab) and Meera K (Citizen Matters)


1.15 p.m. - 2.00 p.m.
Lunch Break
2.00 p.m. - 3.15 p.m.
Digital Media and Journalism
Session Moderator – Vibodh Parthasarathi
Speakers – Geeta Seshu (Free Speech Hub) and Subhash Rai (newindianexpress.com)

3.15 p.m. - 4.00 p.m.
The Way Ahead (Moving Forward)
Moderated by Lawrence Liang

Event Participants
Rashmi Vallabhrajasyuva
Meera K, Oorvani Foundation
Samantha Cassar, CIS
Sharath Chandra Ram, CIS
Suresh Kumar, Artist
Aruna Sekhar, Amnesty India
Sriram Sharma, Part time Blogger
Ammu Joseph, Independent Researcher
Mathew John, Jindal Global Law School
Swati Mehta, The Rules
James North, The Rules
Bhairav Acharya, Lawyer
Deepa Kurup, The Hindu
Abhilash N, Independent
Deepu, Pedestrian Pictures
Rashmi M, PhD Student at NIAS
Jayanth S, LOCON Solutions Pvt Ltd.
Nehaa Chaudhari, CIS
Dinesh TB, Servelots
Snehashish Ghosh, CIS
Lawrence Liang, ALF
Vibodh Parthasarathi, CCMG, Jamia
Ram Bhat, Maraa
Ashish Sen, AMARC
Subhash Rai, New Indian Express
Geeta Seshu, Free Speech Hub, The Hoot
Arjun Venkatraman, Mojo Lab Foundation
Raajen, Centre for Education and Documentation
Ekta, Maraa
Smarika Kumar, ALF
Press Coverage
Need to increase diversity in online journalism (The New Indian Express, October 28, 2013).
Experts moot holistic approach to media laws (The Hindu, October 28, 2013).