Creative Commons comes to India
Creative Commons team visited four Indian cities to spread the word about CC free licenses and CC affiliate program. Wikimedia India chapter was approached to join hands with Creative Commons for research and community building.
Creative Commons event, Chitrakala Parishath, Bengaluru
Jessica Coates, Global Network Manager and Jane Hornibrook, Regional Coordinator, Asia-Pacific, Creative Commons recently visited India. The Access to Knowledge team from the Centre for Internet and Society got a chance to join them for three of their meetings: one in Pune and two in Bengaluru.
Ceative Commons is a not-for-profit organization and the base for the free licenses. More than 400 million work in the world are in Creative Commons license as of today. The foundation is looking to expand its wing of voluntary affiliates in India who would support for more outreach, community building and research. "We are excited to see the wikipedians in India and their passion to contribute to Wikipedia and other Wikimedia projects. Wikimedia Commons is the largest Creative Commons license use and we are looking for joining hands with the Indian wikipedians and the Wikimedia India chapter", says Jessica Coats.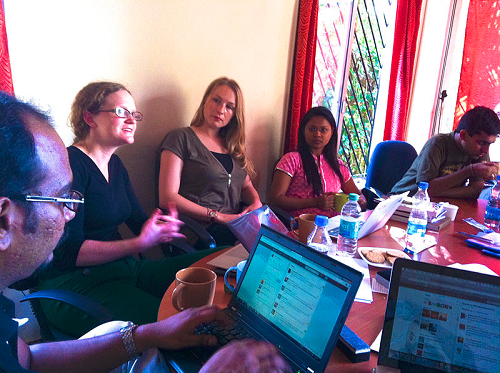 Jessica Coates and Jane Hornibrook from Creative Commons at Centre of Internet and Society, Bengaluru
Jane Hornibook, who looks after Creative Common's operation in Asia-Pacific said, "Creative Commons has many users in India. It would be exciting for us to collaborate with more academicians, wikipedians and organizations like Wikimedia India Chapter and CIS for peer research and outreach and grow our affiliate network in India.
Video


Note: This blog post is a combination of events organized in Pune by Pune Linux/Unix User Group and Symbiosis Institute of Computer Studies & Research, and CIS and the Wikimedia India Chapter in Bangalore.