The Zen of Pad.ma: 10 Lessons Learned from Running Open Access Online Video Archives in India and beyond
Sebastian Lütgert and Jan Gerber, the co-initiators of, and the artists/programmers behind the pad.ma (Public Access Digital Media Archive) project will deliver a lecture at CIS on Wednesday, February 03, 6 pm, on their experiences of learnings from running open access online video archives in Germany, India, and Turkey. Please join us for coffee and vada at 5:30 pm.
Event details
When
Feb 03, 2016
from
06:00 PM
to
08:00 PM
Where
The Centre for Internet and Society, No.194, 2nd 'C' Cross, Domlur, 2nd Stage, Bangalore 560071 (Near TERI Complex and Domlur Club)
Contact Name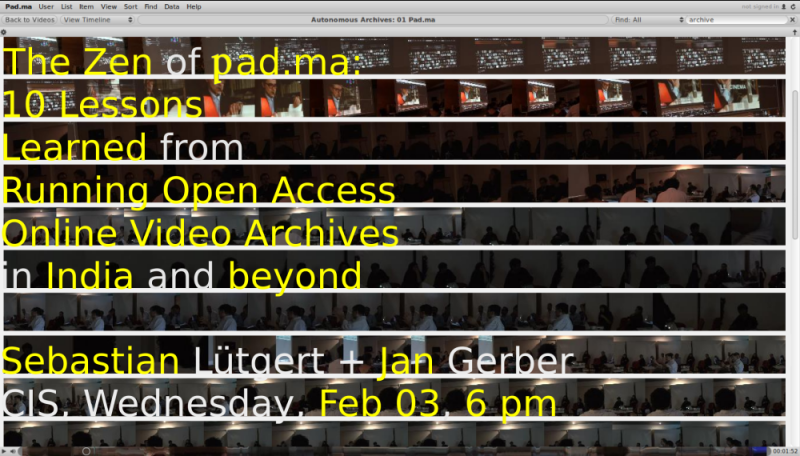 The Zen of Pad.ma
Eight years after the launch of Pad.ma and three years since the inception of Indiancine.ma, Sebastian Lütgert will take a closer look at some of the strategies -- decisions and decision making processes, foundational principles and accidental discoveries -- that may have helped make these projects sustainable. While most of the lessons begin with concrete questions related to software and technology, most of them will end up pointing beyond that: towards a general theory of collaboration, towards strategies against premature separation of labor, and towards a few practical proposals for successful self-organization on the Internet.
Biographies
Sebastian Lütgert, media artist, programmer, filmmaker and writer, lives and works in Berlin. Co-founder of Bootlab, textz.com, Pirate Cinema Berlin, Pad.ma and Indiancine.ma. Lecturer at the Academy of the Sciences in Berlin, various publications on cinema, copyright, radical subcultures and the politics of technology.
Jan Gerber, video artist and softwate developer, lives and works in Berlin. Co-initiator of Pirate Cinema Berlin, Pad.ma and Indiancine.ma, author of numerous Open Source software projects, most recently Open Media Library. Involved in a variety of open-access archive projects around the world.